I believe in microcredit. I believe in helping people help themselves and people around them through entrepreneurship. Access to capital is hard if you're just starting a business, and microcredit loans bridge that step. Besides, it's great learning a little bit about the people you're lending to, instead of just donating to a big organization.
I believe in microcredit. I just hadn't done anything about it until today, when I read Quinn's blog post about receiving a $25 Kiva gift certificate and lending to a barber in Cambodia. I registered on the site and lent $100 from my charity budget.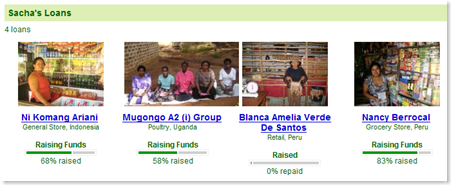 I lend to women, because statistics show that they have a higher repayment ratio compared to men. I prefer to lend to people who have had experience with microlending and business. In particular, I prefer to lend to women with children and a business, because they've got really good reasons to manage the business well and they're used to handling lots of things going on at the same time. I also prefer to lend to groups, because they have good social support and motivation.
I believe in microcredit, and I'm glad that I can do something about it. In fact, I'm going to follow Quinn's example here and regularly give away gift certificates, one each month. =) Maybe even two, if I like the system.
Now if Kiva would partner with a microfinance organization in the Philippines, that would be awesome.
As an internet-addicted millennial, I'm well aware that the printed word is dying. Our generation is going to be the death of printed magazines and newspapers. I haven't read a newspaper in years, but thanks to Google News, Digg, Reddit, NowPublic and others; I'm still as informed as I was when I used to keep scrapbooks full of newspaper clippings.

But what I didn't know is that books are already toast. Steve Jobs recently told the New York Times his opinion on Amazon's Kindle electronic book reader.

"It doesn't matter how good or bad the product is, the fact is that people don't read anymore," he said. "Forty percent of the people in the U.S. read one book or less last year. The whole conception is flawed at the top because people don't read anymore."

Ouch.
Will Pate, If People Don't Read, Why Keep Writing?
As an Internet-addicted millenial, I'm also deeply addicted to the reading. I read. A lot. I read because I love learning about things and books give me the most bang for the buck when it comes to established topics, thanks to the research and thought people have put into their books, and I read because I love having fantastic conversations with fellow bookworms. Granted, I read more than almost everyone I know, but most of my friends read a lot too. And if we're this weird geeky island in a sea of people who'd rather watch television or video and be constrained to the speed and order at which someone communicates, then that's the way it is.
I don't think the picture is as bleak as Steve Jobs paints it, though. People read and write, but they read and write mostly light material: e-mail, blog posts, things like that. A Vision of Students Today (video below) makes that point very well. Jump to 1:58 if you want to see just that bit.
So people read a lot, but it's like what people would get if they read only magazine or newspaper articles. It's like snacking instead of eating your vegetables. Vegetables, properly done, can be quite yummy. Books, too. But the good thing about it is that many books are going online, whether it's because publishers and authors are trying new ways to reach more people, or even people like me are writing online because of the quick feedback of the Internet.
The printed word isn't dying. It's going online. It's moving onward and upward. And if that forces writers and publishers and readers (who might also be writers and publishers in this new world) to figure out new models for the way we do things, great!
I spent the afternoon working on a progress meter for my writing. I like measuring things, and I think this will help keep me motivated. Besides, I wanted an excuse to hack. ;)
I initially wrote this in PHP, but then I converted it to Emacs Lisp just for kicks. I like my Emacs code better. =)
Here's where I am right now:
7: Managing Your Notes
3655 of 16000 words
Wicked Cool Emacs

I still have to tweak the code a bit before I feel comfortable putting it out there, but if this works, then cool!
Here are ten of my favorite WordPress plugins:
Discover old posts and make random connections.
Make it easier for people to comment and keep track of the conversation. Make it easier to respond to those comments, too!
Check out these other plugins.
Flexo Archives - if you've been blogging since 2002, you need one of these.
FeedWordPress – I used this to import all of my old blog posts from my Planner-based blog. Great if you keep more than one blog.
Google XML Sitemaps – Because it doesn't matter what you write if Google can't find it.
TD Word Count – Nice to see how many words you've written. Tweak this a little to share your stats with the rest of the world.