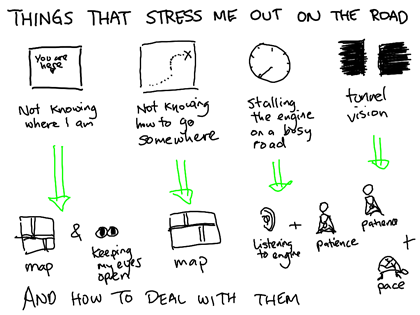 I'm still learning how to drive.
It seems that most teenagers anxiously waited for the birthday that let them get a learner's permit and get on the road. I didn't. Between carpools, public transit, and other people driving, I never needed to drive. Besides, jeepneys, buses and tricycles made driving in downtown Manila a harrowing spectacle. In Toronto, public transit can get me nearly everywhere I need to go. I'd like to stay car-free as long as possible, as I've seen how owning a car can be an expensive proposition.
Still, there's no getting around the fact that driving is a useful skill, so I'm learning. It's difficult to learn something that other people already take for granted. I feel frustrated whenever I have to do so much back and forth in parking or when I make the wrong decision when it comes to navigating. I learn so slowly!
I'm lucky that W- can put up with my mistakes patiently, and he even tells me not to be so hard on myself. It's difficult not to berate myself for mistakes like stalling the car in the middle of the road and then grinding the starter in my panic. One of the things I'm learning from all of this is that even when I feel like a failure and all I want to do is make the stress stop, I need to relax and reset my mood if I'm going to be able to do better. I need to make an effort to switch my mental track from:
"Why can't I get this? Teenagers pick this up quickly."
to
"Everyone's alive? Good. Anything else can be taken care of. Now, how can I do things better next time?"
If I don't make that mental switch, I end up making more and more mistakes. If I do, then I might stand a chance of making it home without making W-'s knuckles white.
One of the things that I've noticed is that I have a hard time navigating. We've passed through those roads countless times, but even when W- asks me what looks familiar, I find it hard to distinguish between the different reasons that different things look familiar. So after driving practice today, I finally looked up all of these places on Google Maps. I couldn't figure out how they were related just driving along, because I couldn't focus on anything aside from not getting into an accident. Seeing the map in my head might make navigation easier for me.
Learning how to drive is not fun, but I know I need to learn. The only thing to do whenever I stall is to start again. (Preferably without grinding the starter.)
One of the best ways to keep yourself enthusiastic and engaged when you're presenting a topic that you've talked about a number of times before is to keep changing it, whether it's by tweaking the content of your presentation or opening it up for more discussion. For my four GBS Learning Week sessions on "The Top 10 Web 2.0 Tools Every IBM Consultant Should Try" (available on the IBM intranet on Pass It Along), I decided to vary the structure. The first two times I presented it, I added a new tool to the list and consolidated two other items. For the third and fourth times, I presented it as a survey or quiz instead of a straight list of recommendations.
The third and fourth times felt a lot more effective for me because the new structure made it easier for people to reflect on their current practices and see the potential benefits of these new tools and new ways of working. I made sure that the session feedback for the third and fourth sessions were kept separately, so I could look for any differences.
Then it was time to put on my (very small) stats geek hat. The quantitative feedback didn't show any statistically significant differences, which I didn't mind because my average satisfaction rating was around 3.5 out of 4 (midway between "satisfied" and "very satisfied").
How satisfied were you with this session? (4 – very satisfied, satisfied, neutral, dissatisfied – 1)
| | | |
| --- | --- | --- |
| | 1st/2nd | 3rd/4th |
| Mean | 3.49 | 3.73 |
| SD | 0.60 | 0.46 |
| SEM | 0.10 | 0.12 |
| N | 39 | 15 |
I got practically the same ratings for the question: How relevant was this topic to your current role and/or interest for your career development?
The comments were:
Well done, Sacha!
Very enthusiastic. Well done!
Partly about saving time, partly about filling your day 24/7 with work stuff–what about downtime?
Great job, Sacha!
So much good stuff presented in such a short period of time! Wish we could have had a little more time to see a short practical demo of each of the 10 tools. Very well presented.
Pretty good list of tools.
Excellent presentation by Sacha
Good session
Sacha made this dull topic interesting with practical examples. Thanks.
Very informative.
Very informative and good info on how to find and use some great tools. Instructor made topics interesting and had a good pace (not too slow)
Good delivery, very enthusiastic
Enthusiastic presenter, passionate about her subject. Good approach by question and answer.
High energy! well done
Sacha is very enthusiastic! Great job!!! Super tips!!!
Fantastic–Sacha is a very engaging speaker!
Super presenter – perfect length
I also changed the follow-up strategy for the third and fourth sessions, promising to e-mail people afterwards instead of just directing them to where they can download the presentation. We'll see how well that works. I might yet see significant differences in adoption and retention. =)
Speaking of session feedback, I've been meaning to post my speech feedback from the Technical Leadership Exchange session I gave on I.B.Millennials: The Net Generation and Those Who Recruit, Hire, Manage, Work With, and Sell to Us.
NSI Rating Scale:
Excellent: 85 – 100
Good: 75 – 84
Fair: 65 – 74
Poor: 55 – 64
Severe Problem: below 55
The value of the content
Total Responses: 43 NSI Rating: 87.21 (Excellent) Ranking: 64 of 317
The speaker's ability to deliver the material
Total Responses: 42 NSI Rating: 92.86 (Excellent) Ranking: 47 of 317
Your ability to apply what you learned
Total Responses: 43 NSI Rating: 70.93 (Fair) Ranking: 115 of 317
This session will help me achieve my business goals
Total Responses: 43 NSI Rating: 63.37 (Poor) Ranking: 164 of 317
Comments were:
Good background of case study. Questionable general recommendations may have missed pluses and minuses.
more statistics, Study references?
Quite interesting for an older generation and I think more info to get and retain employees should go out to IBMers
Sacha is a fabulous presenter and handled everything thrown at her wonderfully.
Very touched.
Very well spoken, excellent presenter. Great energy.
Great dynamic speaker, interesting topic. Will check out her blog I am sure it will be interesting and informative.
I've got the "interesting and engaging overview" part down pat, and it would be even more effective if I can directly link it to people's next actions and business goals. That particular presentation was more about talking about issues and setting the stage for a discussion rather than helping people make immediate changes in terms of recruiting/hiring/managing/collaborating with/selling to Generation Y, though, so that's understandable. Presentations like "Top 10 Web 2.0 Tools ___ Should Try" are much more focused on next actions, and those seem to be okay.
So what's the next step from here? On the "building on your strengths" side, I'm working on more visual communication. You can check out my attempts on my Slideshare page. Three of my six public presentations have been featured on Slideshare Presentation of the Day, so I must be on to something here. =) On the "shoring up your weaknesses" side, I've been thinking about presentation topics that can lead to immediate next actions. I didn't feel that "Sowing Seeds: A Technology Evangelist's Guide to Grassroots Adoption" was as effective as it could've been. Reminds me of this:
Zander goes on to say "…if the eyes are not shining you have to ask yourself a question: who am I being that my player's eyes are not shining?" This goes for our children, students, audience members, and so on. For me that's the greatest takeaway question: who am I being when I am not seeing a connection in the eyes of others?
"Benjamin Zander: Who are we being?" Garr Reynolds, Presentation Zen
Kaizen: relentless improvement. I want to learn how to help people's eyes shine with possibility.