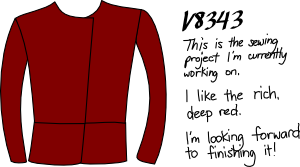 I'm working on a red jacket now. I've been meaning to pick up a red jacket, but I'd never found a dark red jacket with clean and simple lines… so now I'm making one. It helped that there was a sale on Vogue sewing patterns, and that I'd stumbled across this deep red wool while W- was picking up fabric for the dining room cushions.
In other news, sketching is so much easier in a vector drawing program where I can edit my mistakes. Thank you, Inkscape!
Text:
IBM's Innovation Jam was a lot of fun. I focused on it because it was a great opportunity to connect cross IBM and share ideas. I posted more than 200 messages!
I still got real work done. Our site users will be able to save searches.
Worked on some scenarios for Gen Y banking. Looking forward to Boston workshop.
Started on red wool jacket. Outer layer is done.
Bought gadgets – Logitech Pro 9000 webcam, Logitech Nano mouse. Both work with Linux.
Found a Filipino costume for an upcoming Virtual Cultural Festival in SecondLife.
One of my role models left the company. Felt frustrated. Wondering how to make things better. Someday…
Priorities for next week:
Mentoring session on Tuesday: ask good questions, learn lots
Demo of intranet tools to client VP
Flight to Boston for workshop. Whee!