You can tell a lot about people by the way they spend their vacations. Some people escape to tropical islands for a week of pampering. Others seek thrills in wild adventures. W- and I baked a ton of cookies and egg tarts, tidied up the house, and caught up on plenty of sleep.
Last week:
Virtually attended Adphoto Christmas party.
Finished custom-fit sewing pattern, after many struggles. Transferred onto pattern cloth.
Read plenty of books
Treated cats to turducken (cat food in a can, oh my!).
Had dinner with W-'s family.
Prototype Drupal-based conference commando site for internal use.
Sent annual updates out by e-mail and blog post.
Reviewed and printed photos.
Plans for next week:
Continue bugging the project managers for more work.
Mindmap upcoming events.
Create conference type for Drupal-based site.
I'll be giving a presentation on how enterprises use Web 2.0 inside and outside the organization to Dorit Nevo's MBA class at York University on February 10, from 8:30 PM to 10:00 PM.
Current status: Mindmapped
Next action: Prepare detailed outline
It's another slow work day, so I invested some time in learning about Drupal 6. Now that I'm familiar with Drupal's structure, I'm tempted to move my blog to it. The wordpress_import module successfully imported my existing blog posts and comments. In order to make it work, I needed to delete all the spam comments and increase my PHP execution limits to 4 minutes and 256 MB RAM.
I remember how I migrated all of my posts from Emacs Planner into WordPress by generating and slurping in the RSS feed. I'm using a similar process now using WordPress' XML Export format. I don't even need to break it into smaller RSS feeds for memory usage.
I'm currently prototyping things through Drupal's web-based interface. It's easier to explore, but it also makes me slightly nervous because my changes haven't been checked into my git repository. I use a custom module instead of making types through CCK, though, as I find it easier to hack PHP than figure that out. ;)
So what is it like now?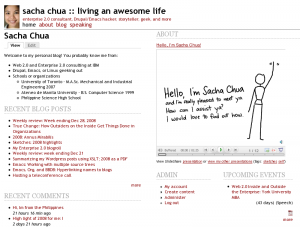 The key piece I'm working on is a way to keep track of recent and upcoming presentations, conferences, and other events. I'd like to eventually tie that into a content management system that will make it easy for me to plan future talks, too. I wonder if I can use this to learn about Twitter and Facebook integration as well… =)
We're still on Drupal 5 at work, but it's fun experimenting with Drupal 6 and wrapping my mind around the differences. I'm looking forward to learning more about tasks in installation profiles, theming, and other good things.
Always learning!
Adrian Rossouw e-mailed me about aegir, a multi-site hosting system he had helped develop. I finally got around to trying it out on my local system, and I'm impressed. It easily handles the creation of virtual hosts and settings.php, and it can provision sites with different installation profiles. I could see people using this for the kind of Drupal hosting that many companies now do. Kudos to Bryght for giving this to the open source community!
It wasn't difficult to get up and running. Follow the installation wizard, and you're pretty much all set. I wonder if I can get our project to this level of awesomeness.