Taking Bargaineering's advice to map out my financial network, I decided to diagram how my accounts relate to each other: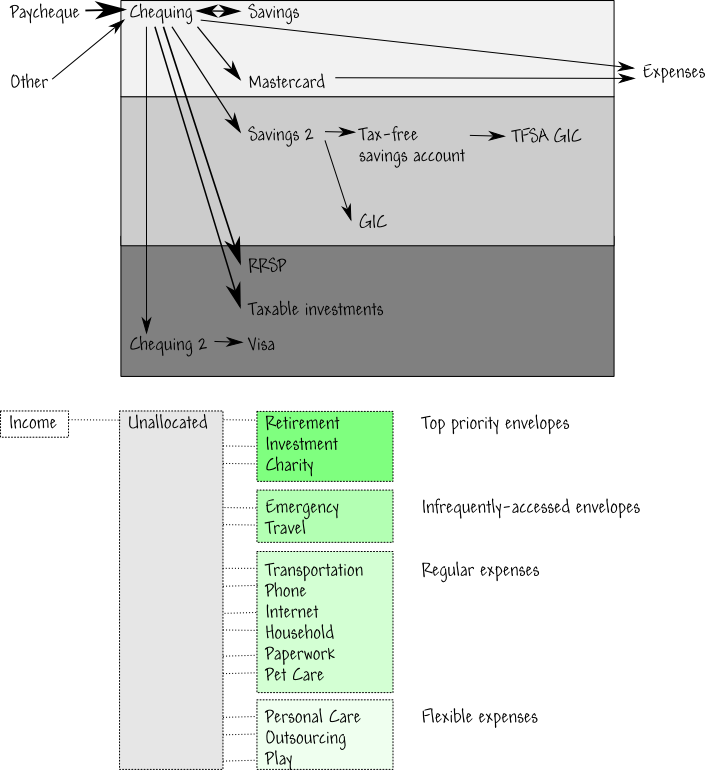 I have accounts at three banks, represented by the gray boxes at the top. The first bank offers me free chequing, okay-if-not-stellar rewards on my credit card, and a good savings rate. The second bank offers me a good savings rate and GICs that are easy to manage. The third bank offers me low-MER index funds for my registered retirement savings plan (RRSP) and long-term investments. (I'm 25, so my portfolio leans heavily towards equity.)
UPDATE: I nearly forgot–I also have a Defined Contribution Pension Plan at work, which automatically deducts a portion of my paycheque for my retirement savings. That's the good thing about automatic deductions–they work for you even if you forget about them… =)
I use a modified envelope budgeting system to get a unified view of my finances, plan my spending, and save up for major expenses. Every week, I balance my books, entering in transactions and double-checking my envelope balances. All income is automatically put into a virtual "Unallocated" envelope. I copy the envelope allocations from my previous paycheque, and these allocations move virtual money to the different envelopes.
Priority envelopes:
Retirement: Money I know I won't touch in a while. I use this to fully fund my RRSP, and I invest the rest in my long-term investment portfolio.
Investment: My crazy idea opportunity fund. This is less about investing in stocks or bonds and more about investing in myself. I set a savings goal for this two years ago, and I'm almost at my target amount. If I want to start my own business, this will be my capital. It's also useful for taking advantage of opportunities and following hunches.
Charity: Good way to make a difference. I regularly support the Toronto Public Library, the Toronto Animal Services, and Kiva.org.
Infrequently-accessed envelopes: I keep my emergency fund and my travel fund at a certain level.
Regular expenses and flexible expenses: Every paycheque, I use a template to allocate money among my regular and flexible expenses. Then I check the balance of my virtual envelopes. If one of the regular expenses envelopes is lower than it should be or I have a negative balance somewhere, I move money from the flexible expense envelopes. This arrangement lets me build up some "play money" that I can spend on little indulgences.
When I spend money, I track which account it flows out of (Chequing or Mastercard, typically), and I also semi-automatically track which envelope it comes from. Every expense gets taken out of the Play envelope by default, to make sure that all expenses are accounted for. If a transaction matches certain rules or I adjust the envelopes manually, then my system takes virtual money from the corresponding envelope and puts it into the play money envelope. The personal finance system I use (Ledger – it's a command-line tool for geeks) allows me to prepare reports with or without these virtual transactions, so I can reconcile my finances with bank statements and with my virtual envelopes.
When I want to save for a short-term goal, I create an envelope for it and adjust my envelope allocations. I wrote a shortcut to calculate the minimum I need to save each paycheque in order to meet my medium- or long-term goals by my target dates. That allows me to reduce my Investment envelope allocation and put the freed-up money in my short-term goal envelope. Once I've achieved that goal, I return my Investment envelope allocation to my customary amount. This allows me to enjoy things earlier, while still being on track for my medium- or long-term savings goals.
Results: Because I control my spending based on the balances in these virtual envelopes, it's easy to pay my credit card in full each month. I've also been able to fully fund my RRSP each year, and I save a decent amount for long-term retirement outside that tax shelter. Creating envelopes for short-term savings goals like a drawing tablet or a bicycle before lets me build both a budget and anticipation, and I get to do some consumer research along the way, too. The crazy idea opportunity fund lets me try interesting things. When an idea or an opportunity gets large enough, I split off another envelope to make sure I set aside enough funds to explore it well (ex: outsourcing). And yes, I end up with enough Play money to enjoy life, although I often move play money into my Investment envelope because it's so much fun watching those numbers go up too!
Couple finances: W- is also good with money. We're both pretty frugal, although we spend where it counts. W- uses GNU Ledger to manage his accounts, too. (The couple that geeks out together…) He uses a similar envelope system, but he allocates money to virtual envelopes on a monthly basis instead of on the bi-weekly basis I use. We keep separate bank accounts, but we reconcile our books every so often so that we can keep track of who needs to be reimbursed for what. =) It's a lot of fun, or maybe we're just both weird in the same way.
Next steps: I'm happy with the way my finances work, and I know that I have a reasonable chance of doing well in the future if I just keep plugging away at it. Most personal finance books are written for people overwhelmed with debt or worried about retirement, so there's very little advice on what to do once you've gotten that sorted out. (I'm not guaranteed a good retirement – life happens! – but I probably won't do too bad.) With a good foundation in place, I can then look at other things: how to get even more value for what I do spend (yay frugality!), how to explore opportunities, and even how to create opportunities for other people.
Big picture: Good money management can help me explore opportunities and avoid one of the most common stressors for relationships, and both help keep me very happy. I'd like to figure out how to manage money really well, because someday I want to be in a position where I can create lots of opportunities for others. I also want to be able to build a library. =) Great money management can help me get there. With that big picture in mind, it's easy (and fun!) to invest time in reading about how I can save more money, earn more money, or make the most of what I have.=)
Like this? Check out my other posts about personal finance.
This is a quarterly email with my favorite blog posts, books, links, and personal updates. You received this newsletter because we're connected on LinkedIn or you subscribed to the list. To unsubscribe or change your e-mail address, click here: !INSERTURL!
THINGS I'M THINKING ABOUT

1. Personal outsourcing
No matter how productive you are, you only have 24 hours a day. I haven't figured out a way around that, but I experimented with delegating some personal projects to virtual assistants.
It has its own challenges (I'm learning a lot about specifying what I want!), but I enjoy working with different people–many of whom do the work much better than I can! You can read about my experiences and my processes at http://livinganawesomelife.com/wp/category/va .
If you're interested in getting started, comment on my blog or e-mail me. I'd love to learn along with you!
2. Drupal application development

I really enjoy building content management systems and social networking websites using the Drupal platform, and I've been teaching other people tips on how to become better (and lazier!) developers. I gave a sesson on "Totally Rocking Your Development Environment" at DrupalCon 2009 to around 150 people, and many people told me that it was one of their highlights. You can find it and my other Drupal-related posts at http://livinganawesomelife.com/wp/category/drupal .
3. Web 2.0, Enterprise 2.0, and public speaking

I gave 13 talks, reaching approximately 730 people with an additional 1825+ views online.
External presentations:
- Totally Rocking Your Development Environment, Drupal Peru
- Totally Rocking Your Drupal Development Environment
- Totally Rocking Your Development Environment, DrupalCon 2009
- Enterprise 2.0 and Knowledge Management (Schulich School of Business)
- How the Web is Changing the Way We Learn – Mesh panel
- New Employees and a Smarter Planet
IBM presentations:
- Get Smart with IBM Web 2.0
- GBS Tech Talk
- Networking Outside the Firewall
- Networking Outside the Traditional Office
- Making the Most of Sametime Unyte
- Totally Rocking IBM: FutureBlue and Web 2.0
- Four Generations in the Workplace: Top 10 Signs of Multi-generational Issues
I'm looking forward to helping even more people learn more about connecting and collaborating using social networking tools. I also love helping developers learn about ways to get even better at working with Drupal. Speaking and coaching are both are great ways to get even better ROI on what I've learned, and to meet and learn from lots of interesting people along the way.
Want me to speak to your group? E-mail me and we might work something out. Interested in learning more about public speaking, or checking out my talks? See http://livinganawesomelife.com/wp/category/speaking for my thoughts and tips.
4. Lots of hobbies

I got my own bike, and that really changed Toronto for me. I'm learning more about sewing my own clothes, and I've been teaching myself the piano too. Ooh, and drawing! Check out http://livinganawesomelife.com/wp/category/sketches for my stick figures, and http://twitter.com/sachac to see my new background. =)
QUICK LINKS

Quarterly goal review:
- Q1 2009: http://livinganawesomelife.com/wp/2009/04/15/quarterly-review-q1-2009/
Monthly reviews:
- March 2009: http://livinganawesomelife.com/wp/2009/03/31/monthly-review-march-2009/
- February 2009: http://livinganawesomelife.com/wp/2009/03/17/monthly-review-february-2009/
- January 2009: http://livinganawesomelife.com/wp/2009/01/30/monthly-review-january-2009/
Weekly reviews: http://livinganawesomelife.com/wp/category/weekly/
MY TOP BOOKS THIS QUARTER

Understanding Comics: The Invisible Art
Scott Mccloud, 2006
Well-drawn, well-written, and surprisingly philosophical. Definitely worth a read.
The Power of Full Engagement
James E. Loehr, 2003
Applies principles from athletic training to the corporate world. Great book for self-improvement.
Fifty Years of Great Writing: Sports Illustrated 1954-2004
Rob Fleder, 2003
I don't know much about sports, but good literature like this is a great way to learn why people love it.
OTHER PEOPLE YOU SHOULD CHECK OUT

If you like reading my blog and you're looking for other people to read, I recommend:
– Sameer Vasta – I Tell Stories, http://itellstories.org/
Check out his quarterly report: http://itellstories.org/2009/04/14/create-followup/
– Ryan Stephens – http://ryanstephensmarketing.com/blog/
Productivity and social media marketing from another Gen Yer
– and cool blog posts I've shared from my Google Reader:
http://www.google.com/reader/shared/04689935238818494850

See you next quarter, or earlier! =) If you want more recent updates, check out http://www.livinganawesomelife.com .
What were the highlights of your quarter, and what are you planning for the next one? Share your thoughts at http://sachachua.com/wp/2009/04/20/q1-2009-newsletter/ or e-mail me at sacha@sachachua.com!
—-
You received this e-mail because we're connected on LinkedIn or you subscribed to the list. If you want to unsubscribe or change your e-mail address, click here:
!INSERTURL!
If you'd prefer to get these updates in your feed reader, you can get full or partial feeds at http://livinganawesomelife.com.
If you received this note from a friend and you would like to subscribe, click here:
!INSERTURL!
My contact information:
Sacha Chua
+1 416 823 2669
sacha@sachachua.com