I like the GTD way of managing mail, and I've created folders for this. The three folders I use the most are AA Next Action, AA Waiting, and Done. Dragging messages down to the right folder is more mouse work than I like, though. I created three buttons on a custom toolbar. For example, the action that moves the current message to my Done folder runs this:
@Command([Folder]; "Done"; "1")
I'd love to associate these with keyboard shortcuts, or spend some time hacking my mail template. That would be even awesomer! =)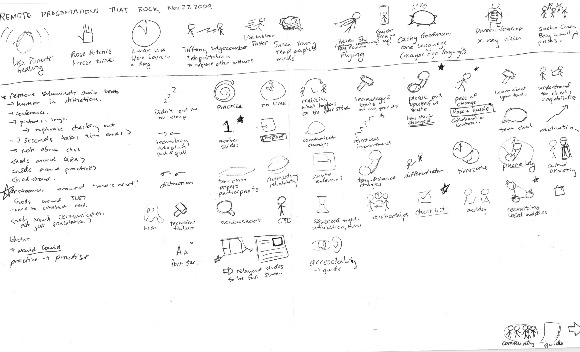 Visual notes from the women's leadership session I helped facilitate. =) The ice-breaker was "What superpower would you like to have?", hence the icons along the top.
It was fun taking visual notes during the discussion of my Remote Presentations That Rock session!