Making Work Work
In every industry I consult in, I've noticed that the top-tier performers are deeply committed to their work/life balance. They may be working long hours, but they are very thoughtful about their leisure, so that they make excellent use of time away from the office. This is a critical skill—especially if you're working long hours, because you have fewer hours to play with in the first place.

The most successful workers create a balance that ensures they are energized, refreshed, and renewed every day. Their balancing act isn't perfect, and it requires constant attention — but they are vigilant about maintaining that balance, because they appreciate the continuity between home and rest, work and productivity.
p21, Julie Morgenstern, Leading Out Loud
p136 to 139 have a great table of tips on how to make meetings more effective, whether you're the chair or a participant.
The book also contains an excellent chapter on mastering delegation. The suggested tasks focus on face-to-face assistance, but there are many great tips that you can apply to virtual assistance as well.
Lots of great advice. Well worth re-reading as you apply tips.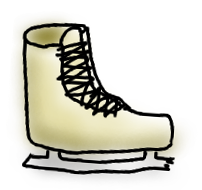 We had circled the ice twice. Hadn't fallen yet, just wobbled about in the way beginners do.
Mel stopped. She flopped down. "Might as well get it over with," she said.
Sounded like a great idea, so I did.
Skating got a lot easier after that.
Fall down intentionally. Get your fear out, then go.