Although the personal accounting program I use (John Wiegley's ledger) can happily process decades of transactions in one file, I like using one file per year. Closing my financial books prods me to make sure that all transactions are accounted for and all my statements balance. It's nice seeing all the numbers line up.
I saved almost 55% of my net income, which is good because I need to save aggressively in order to meet certain goals. I've maxed out my RRSP and TFSA contribution room. I now have a healthy opportunity fund that I can use to start my own business if I want to. In 2010, I plan to save at least half of my income again, setting aside money for some major upcoming things.
(And if the the stock market eventually goes up instead of staying mostly level, all the better!)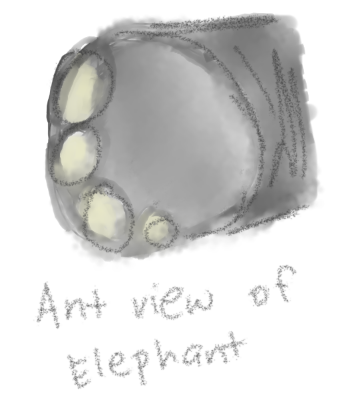 My dad took me to Manila Zoo to show me Maali's new enclosure. She's one lucky elephant.
I fed her a few bananas from the safety of the viewing area. Then my dad gestured for me to walk across the rickety plank and into the new enclosure.
Right. Umm. Okay. So I got up close and personal with Maali.
"She's a really big elephant," I said. I'd never seen her that close. I held a banana out. Maali took it with her trunk and plopped it in her mouth.
"Look at the camera," my dad said. I smiled at the camera nervously. Yes, I know my dad was watching Maali, and he'd keep me safe if something happened. But a 4-ton elephant can't help but get respect.
More bananas. Happy elephant.
When we finished the bananas, I went back over the plank and behind the viewing bars.
My dad turned on the water compressor and directed a spray of water into Maali's outstretched trunk. She stored water, then drank it. Then he passed the hose to me and told me to direct the water into Maali's mouth so that the elephant could drink.
Maali raised her foot. My dad showed me how to use the spray to wash the caked dirt from the elephant's feet. Then my dad gave Maali a shower.
What did I do during my Christmas vacation? I treated an elephant to a foot spa.