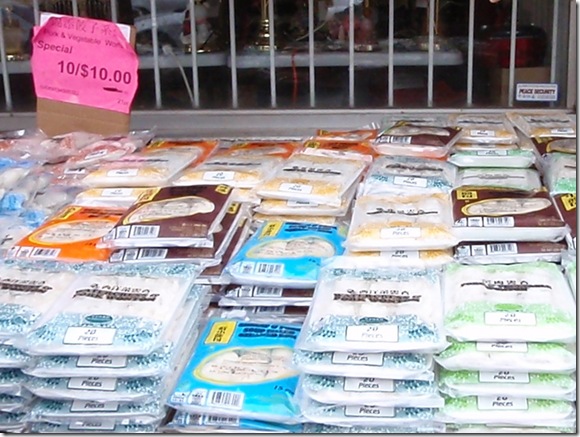 The winter chill is tough.
But it does mean that pork and vegetable wontons, buns, and other frozen food are sold on the sidewalk in Chinatown. It's like having a big outdoor freezer, and not having to worry that your groceries will spoil.
Always look on the bright side of life! =)
From last week's plans:
Work
[/] Capture lessons learned
[X] Create overview visuals
[/] Revise wiki structure
[X] Shadow David Ing on client interviews
[X] Give presentation / facilitate discussion on microblogging – that was lots of fun!
Also: Shared "Take Two" women's leadership resources at work
Documented big picture of information flow
Reimaged my computer
Shared lessons learned from training communit
Sent plans for taking the lead on enablement
Relationships
[/] Send thank-you notes
[/] Send care package
[ ] Plan February tea party
[X] Mentor and be mentored
Also: Pamanhikan! And picked out wedding rings! And looked at restaurants for the reception!
Life
[X] Scan my notes
[ ] Start grouping Siargao pictures into a story
Also: Bought a waterproof/shockproof camera and have started taking more pictures
Took Neko to vet
Procrastinated some things in favor of others. =) Still happy!
PLANS FOR NEXT WEEK:
Work
[ ] Revise wiki structure
[ ] Follow up on lessons learned
Relationships
[X] Book wedding chambers
[ ] Try out restaurants
[ ] Book reception
[ ] Look for photographers / videographers
[ ] Look for cheongsam (there's a nice one for $75, but it's probably available for cheaper)
[ ] Start collecting guest addresses
Life
[ ] Group Siargao pictures into a story
[ ] Plan crafts
[ ] Send care package
[ ] Plan February tea party
[ ] Send thank-you notes