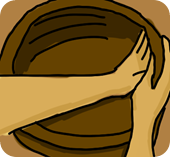 This is what software feels like. It's squishy and floppy, and it falls over from time to time while you're making it. It changes. And at the end of the day, we'd really, really, really like it to hold water. Or marbles, or kittens, or whatever people want to put into it.
I think I'm going to focus on slowing down and building things better. This idea of a minimally viable product fascinates me. What's the essential part of a system? How can we make that solid before moving to everything else? Make sure the pot can hold water before you glaze it.
There's a teaching story I like about the importance of practice. Making lots of pots can be an easier and more effective way to learn than trying to make a single perfect pot, as long as you're paying attention and learning from the pots you make. Well, that's how the story goes. In real life, it's more like "But I want to make sure this pot holds water, and why aren't the sides straight, and I thought I plugged that leak, ooh, hey, look, that part's all pretty now, well, here goes…"
I thought I'd feel guilty about being on holiday while other people on my team – clients and IBMers in the US – are working, but it's been a weekend well spent, and the Civic Day holiday will be a much-welcome transition period (plus a chance for more awesomeness).
In addition to taking care of our usual chores, we spent Saturday volunteering at Free Geek Toronto. The idea behind Free Geek Toronto is simple: help people learn computer skills and reduce electronic waste by refurbishing or recycling old computers, which can then be sold at a low cost or donated. They really need people to teach classes on how to build computers, so W- and I will start a series of classes next week.
Sunday was a kitchen sort of day. We took the pots and food containers out of the cabinets, separating them into keep-donate-repurpose piles. We reorganized the salad fixings and the spices. We emptied the chest freezer and the fridge freezer, separating different kinds of items using cloth and plastic bags: vegetables in the green bag, meat in the red, and so on. Then a big batch of cooking: two roast chickens stuffed with couscous for lunches throughout the next few weeks, stir-fried rice to use up leftovers. I'll try scalloped potatoes and oatmeal cookies again sometime – more practice needed. Now we're staying up late for baked beans, which will finish cooking at around 2.
Tired, but it's a great sort of tired.
Plans from last week
Work


[X] Get Project M ready for user testing
[X] Work on scoping project T
Bounced around ideas for an IBM comic
Put together update for my manager
Relationships


[X] Help people connect with each other regarding Manila Zoo
Volunteered with W- at Free Geek Toronto
Worked on cleaning up kitchen
Attended Quantified Self meetup
Life


[X] Practise piano – 30-60 minutes daily
Got back into the swing of drawing – sketchnotes, drawing for fun
Plans for next week
Work


[ ] Send mid-year update to manager
[ ] Work on Project M issues/requests
Relationships


[ ] Work on Latin – 30 minutes daily
[ ] Help J- with piano
Life


[ ] Practise piano – 30 minutes daily
[ ] Draw – also 30 minutes daily
[ ] Track a complete week of time