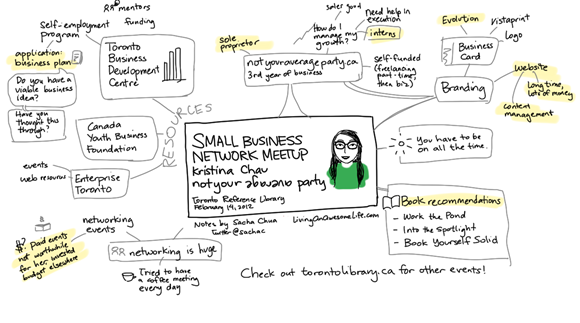 (Click on the image for a larger version.) I attended the small business network meetup at the Toronto Reference Library. The librarian (Margaret Wigglesworth) explained that the Toronto Public Library started hosting these events after people requested more networking time in the business classes that the library organized. Each session was structured as a short talk and a networking discussion. There were twelve of us seated around a comfortably-sized table on the third floor of the reference library. Many were thinking about starting a business but hadn't taken the plunge, although there was a high school senior who was the president of his school's business club and made some money buying and selling phones through Craigslist and Kijiji. Kristina Chau (
notyouraverageparty.ca
,
@notyouravgparty
) shared her experiences in getting started. After working hard for someone else's company, she realized that she'd rather work on her own. She did some freelance work as an event planner. At 29, she started her own event planning company. She applied to the
Toronto Business Development Centre
for the Although her application was denied, she found the rigor of the application process to be very helpful. She eventually funded her own company through the services she offered. Kristina shared examples of the evolution of her brand: the business card versions she went through, her current website, even the Starbucks cookie bag on which she and a friend had brainstormed the business. It looked like a lot of people were reassured by the idea that they didn't have to get things right the first time around. Kristina also mentioned that getting her website together took a long time and a lot of investment, and people had many questions about that. In the discussion, a few people shared that they had lots of ideas they wanted to work on, but they didn't know where to start or what to focus on. If I can figure out these micro-experiments for entrepreneurship, maybe that's something I can help people with. I've read Work the Pond, the first book that Kristina recommended. It has a particularly good chapter on
tag-team networking
(see my linked notes), and is overall a good networking book. I'll check out the other two books she mentioned and post my notes as well. In terms of books on entrepreneurship,
Lean Startup
is one of my current favourites, and I'm looking forward to trying the ideas. I'm planning to attend the next meetup on March 13. Got any favourite small business events in Toronto? I'd love to hear your recommendations!