W- and I spent Sunday afternoon gardening. We dug up the boxes, amended the raised beds with nine bags of sheep manure, and filled the deck planter boxes with soil. We had bought twenty bunches of seedlings the day before at this corner store that had a large variety of plants and sold them cheaper than Home Depot or Rona did. Somehow we managed to squeeze all of them in.
I love gardening with herbs. Pulling up weeds among the lavender sprigs, separating the basil seedlings, planting cilantro in the boxes – all those scents wafting through the air, sticking to my fingers. The memories of tastes: basil in pesto and salad and sauce, oregano spicing things up, rosemary sprinkled on potatoes or sausage. And then the softness of a fine tilth, still a touch sandy but better than it was when we started. Our garden doesn't have a lot of colour, but maybe we'll plant more flowers next year. Other people's gardens and the Toronto parks are filled with vibrant colours. This week, the tulips are putting on a show.
Computer work is abstract, but I've been building other senses into my life. Drawing teaches me to look more closely, and painting (digital – less clean-up!) gives me a new appreciation for colour combinations. Touch comes from kneading dough and working the soil and cuddling the cats. My husband and I both enjoy cooking, so that takes care of taste and smell. Sound is the one sense I tend to forget. I tend to find music distracting and earphones have a high failure rate in our household (aforementioned cats), so I usually work in silence. Maybe I'll play around with that.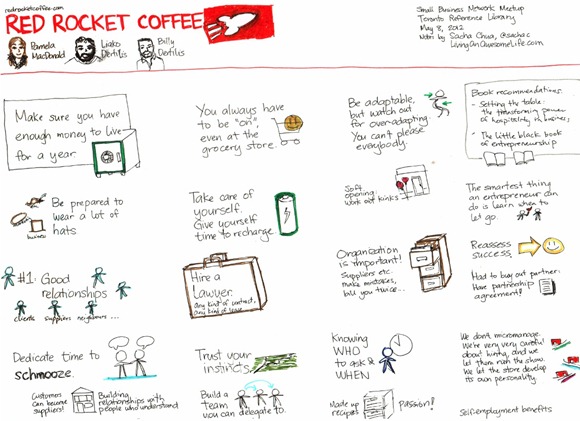 Click on the image for a large version. Want an even better version for printing out? Contact me. Feel free to reuse or share this image under the Creative Commons Attribution license.
We heard from Pamela MacDonald, Liako Dertilis, and Billy Dertilis of Red Rocket Coffee at today's Small Business Network meetup at the Toronto Reference Library. They shared hard-won lessons from building a coffee shop business that now has three locations.
The small business network meetup at the Toronto Reference Library happens on the second Tuesday of every month. You can view my sketchnotes from past meetups:
View more sketchnotes, read my notes about business, or browse around my blog!
Here's the text from the image to make it easier to search for:
redrocketcoffee.com
RED ROCKET COFFEE
Pamela MacDonald Liako Dertilis Billy Dertilis
Small Business Network Meetup
Toronto Reference Library
May 8, 2012
Notes by Sacha Chua, @sachac, LivingAnAwesomeLife.com
Make sure you have enough money to live for a year.
You always have to be "on", even at the grocery store.
Be adaptable, but watch out for over-adapting. You can't please everybody.
Book recommendations:
-Setting the table: the transforming power of hospitality in business
-The little black book of entrepreneurship
Be prepared to wear a lot of hats.
Take care of yourself. Give yourself time to recharge.
Soft opening: work out kinks
The smartest thing an entrepreneur can do is learn when to let go.
#1: Good relationships
clients suppliers neighbours…
Hire a Lawyer. Any kind of contract, any kind of lease
Organization is important!
Suppliers etc. make mistakes, bill you twice…
Reassess success.
Had to buy out partner. Have partnership agreement!
Dedicate time to schmooze.
Customers can become suppliers!
Building relationships with people who understand
Trust your instincts.
Build a team you can delegate to.
Knowing WHO to ask & WHEN
Made up recipes
Passion!
We don't micromanage. We're very very careful about hiring, and we let them run the show. We let the store develop its own personality.
self-employment benefits