I was going to write stories from my five years at IBM (one year as a graduate student, four as an IBM consultant) while they were still fresh in my memory. Then I realized I was on page 8 of a single-spaced document and I was still covering the first year. Instead of writing my way through it, I'll share the five key things I learned during my adventure with IBM.
Happiness, meaning, and career growth are your responsibilities.
Don't count on people to tell you why your work is meaningful or to arrange your career so that you're happy. Do that yourself. Make your own vision and set yourself up for your own happiness and success. There will always be plenty of reasons to feel stressed or unhappy about work. Why not focus on what you could do to improve things instead?
As the financial crisis unfolded in 2008, the mood was decidedly down. Clients were tightening their budgets. Layoffs meant seeing friends scrambling for work despite their talents and skills.
I figured things would happen however they happened. I could either be demoralized by it, or I could focus on the things I could control. I learned more about consulting and development, and I had a wonderful year. (Okay, after I got through my disappointment about great people getting laid off…)
Work sustainably.
Fatigue and sleep deprivation lead to mistakes and lower productivity, and the personal sacrifices are too high. Work at a sustainable pace. If your work requires intense sprints, make sure you don't forget to rest.
From the beginning, I knew I didn't want to burn myself out working 80-hour weeks. Although the occasional business trip involved longer hours, for the most part, I kept to the time I budgeted for work. This forced me to focus when I was at work, and to find ways to work more effectively. It also meant I gave feedback on estimates early, so that we could avoid having projects run behind schedule because of unrealistic planning. Result: less stress and more happiness.
Ask for help.
One of the best things about working with a large company is being able to work with people who are great at what they do. Sometimes you have to find creative ways to compensate or thank people for the time they invest in helping you. A thank-you note that includes their manager is an excellent way to start.
I was working on a client project when I ran into a problem that I didn't know how to solve. It involved Microsoft SQL Server 2000, something I had never administered before. I tried searching the Internet for tips, but I knew I was missing things I didn't even know to look for. After some delay, we eventually found an expert who could review my work, we brought him into the project, and he billed much less time than it would have taken me to learn things from scratch.
Practise relentless improvement.
Always look for small ways you can work more effectively. Invest time into learning your tools. If you can improve by 0.25% every day, you'll double your productivity in less than a year.
Working with other people in an IBM location is an excellent way to learn by watching how other people do things. Attending community conference calls is another way to do that, too. Experiment with techniques yourself, and share what you learn.
Look for scalable ways to make a difference. Intrapreneurship is worth it.
Find yourself doing something repetitive? Solving problems other people might run into? Save yourself time, and save other people time as well. If you write about what you're doing – or better yet, build a tool that does it for you – then you can share that with other people and create lots of value.
I started playing around with intrapreneurship through blogging and presentations. I was learning a lot, so I took notes and proposed presentations to conferences. Many of my proposals got accepted. This is how I got to go to the IBM Technical Leadership Exchange as a presenter in my first year as an IBM employee. Presenting helped me share what I'd learned with dozens of people at the same time, and uploading the presentations helped me share with hundreds and even thousands over the years.
I like building tools, too. I wrote something to make it easier for me to export data from Lotus Connections communities. This grew into the Community Toolkit that many people use to create newsletters or measure activity in their communities. I wrote a script for doing mail merge in Lotus Notes, and that became popular as well. This resulted in a steady stream of thank-you notes from people across IBM (and even outside the company), which came in really handy during annual performance reviews.
What have you been learning at work?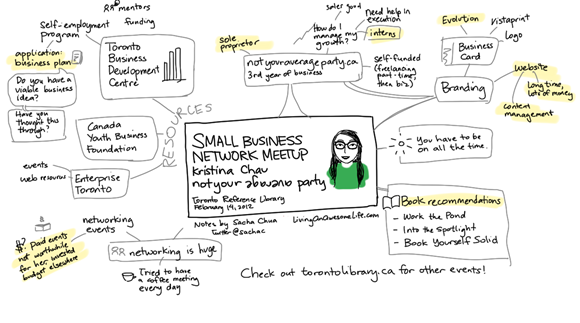 (Click on the image for a larger version.)
I attended the small business network meetup at the Toronto Reference Library. The librarian (Margaret Wigglesworth) explained that the Toronto Public Library started hosting these events after people requested more networking time in the business classes that the library organized. Each session was structured as a short talk and a networking discussion. There were twelve of us seated around a comfortably-sized table on the third floor of the reference library. Many were thinking about starting a business but hadn't taken the plunge, although there was a high school senior who was the president of his school's business club and made some money buying and selling phones through Craigslist and Kijiji.
Kristina Chau (notyouraverageparty.ca, @notyouravgparty) shared her experiences in getting started. After working hard for someone else's company, she realized that she'd rather work on her own. She did some freelance work as an event planner. At 29, she started her own event planning company. She applied to the Toronto Business Development Centre for the Although her application was denied, she found the rigor of the application process to be very helpful. She eventually funded her own company through the services she offered.
Kristina shared examples of the evolution of her brand: the business card versions she went through, her current website, even the Starbucks cookie bag on which she and a friend had brainstormed the business. It looked like a lot of people were reassured by the idea that they didn't have to get things right the first time around. Kristina also mentioned that getting her website together took a long time and a lot of investment, and people had many questions about that.
In the discussion, a few people shared that they had lots of ideas they wanted to work on, but they didn't know where to start or what to focus on. If I can figure out these micro-experiments for entrepreneurship, maybe that's something I can help people with.
I've read Work the Pond, the first book that Kristina recommended. It has a particularly good chapter on tag-team networking (see my linked notes), and is overall a good networking book. I'll check out the other two books she mentioned and post my notes as well. In terms of books on entrepreneurship, Lean Startup is one of my current favourites, and I'm looking forward to trying the ideas.
I'm planning to attend the next meetup on March 13. Got any favourite small business events in Toronto? I'd love to hear your recommendations!