Third week of being on my own, and first week on this consulting engagement. I'm pleasantly surprised at how much I can help. It's been fantastic. =) I like this, although I'm firm about my decision to spend time developing other ways to earn money.
W- and I spent Saturday evening watching YouTube clips of Victor Borge. He was totally awesome. If you're into classical music, check him out. If you aren't, check him out anyway.
I didn't get as much done this week compared to last week, probably because I shifted my wake-up time two hours earlier and I needed to adjust. I slept around 5 hours less this week than last week: 57 hours compared to about 62 hours, but still a decent 8 hours a day. I worked 41.5 hours on consulting, and I spent a little time planning as well. I need to go back to doing my week-by-week analysis of where I spend time – it will be interesting to see patterns.
From last week's plans
Business


[X] Start with enterprise collaboration consulting
[-] Business dev: Redesign site landing page and about page
[X] Business dev: Create and post more visual book notes
[X] Follow up with project O
[-] Reach out to Quantified Awesome folks
[X] Attend Ruby Hack Night
Relationships


[X] Attend Maira's get-together
[C] Attend Annika Martins meetup – skipped in favour of Skype chat with my mom, who ended up being busy
Exercised with W-
Chatted with Robert Terpstra
Talked to Ernesto Ramirez and Eric Blue regarding Quantified Self meetups
Life


[-] Go for a two-hour walk
[-] Plan what I want to learn how to draw
Read quite a few books, took notes
Plans for next week
Business


Active


[ ] Project E1: File time
[ ] Project E1: Do more consulting

Connecting


[X] Attend WordPress meetup
[ ] Plan site landing page and about page
[ ] Participate in U of T panel (Kelly Lyons)
[ ] Write testimonials for former colleagues
[ ] Attend small business networking get-together at TPL on March 13

Misc


[ ] Look into project O issue with confirmations
[ ] Draw more book notes and share them
[ ] Set up business credit card
Relationships


[ ] Go on bike ride with W-
[ ] Cook batch of food
Life


[ ] Go for good long walk – maybe Friday? Two hours?
Time analysis
| Activity | Last week | This week | Notes |
| --- | --- | --- | --- |
| Business | 25.0 | 46.2 | Consulting |
| Discretionary | 54.7 | 29.9 | |
| Personal | 16.1 | 20.0 | |
| Sleep | 61.8 | 57.4 | Shifted to early-morning schedule, too |
| Unpaid work | 10.4 | 14.5 | More commuting |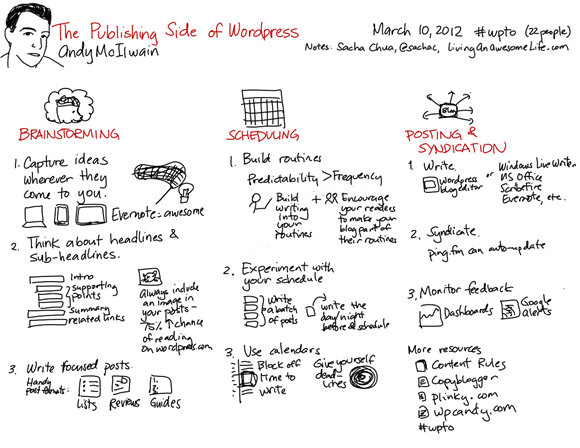 (Click on the image to view a larger version.)
At today's WordPress Toronto meetup, Andy McIlwain shared tips on brainstorming, scheduling, and sharing blog posts in WordPress. The lively discussion brought out lots of other tips, too.
The key thing I took away from the talk was that Evernote is awesome and that I should definitely look into it more. I'm also looking forward to checking out Content Rules for more writing tips and Plinky.com for blog post ideas.
After the talk, I had a fascinating conversation with Robin McRae and Ann Brocklehurst about information architecture and personal knowledge management. Lots to think about. Glad I went!
Check out Andy's blog post below for slides and full notes. Looking forward to the next meetup!
Related links: