Entries Tagged as 'sketches'
Visual book review: The Culture Blueprint (Robert Richman)

The Culture Blueprint is an upcoming book that draws on lessons from Zappo's corporate culture. It offers a mix of high-level advice as well as practical tips on how to influence your company's culture and help your company be more effective. I liked the chapter on implementation, which includes a sample conversation showing how someone negotiated an experiment's scope until the person got the resources and commitment needed. The tips are geared more towards medium- to large-sized companies, but even small business owners can benefit from the focus on values and stories.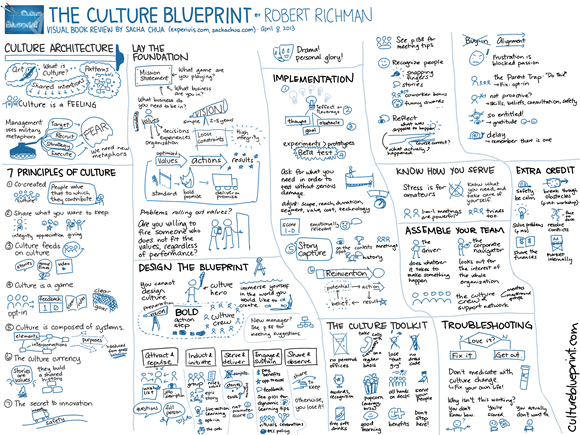 Hope you find this visual summary useful! Click on the image to view a larger version, and feel free to share it with others. © 2013 Sacha Chua (Creative Commons Attribution Licence) – http://sachachua.com
Disclosure: I received a copy for review. If you have or know of an interesting, well-written book you'd like me to review, I accept requests.
---
Emacs Conference 2013 Sketchnotes (also, PDF!)

I cleaned them up a little and packaged them as a PDF for your viewing convenience:
http://j.mp/emacsconf2013sketches
Here they are individually, too! Click on an image to view the full-sized version, and feel free to share them under the Creative Commons Attribution Licence. Enjoy!
---
The Sketchnote Challenge: Those Algorithms That Govern Our Lives (Kevin Slavin)

Eva-Lotta Lamm and a great panel of sketchnote artists are running a challenge to sketch a particular talk. I managed to squeeze in a sketchnote just before today's deadline.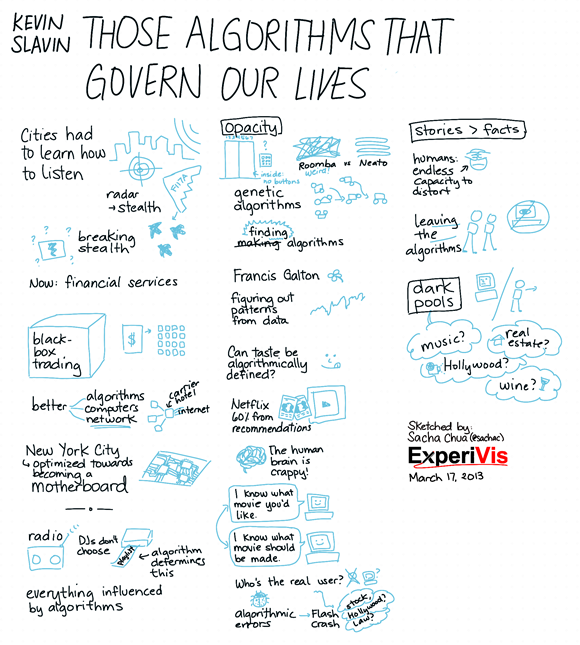 What do I like about this sketchnote?
I captured enough to help me remember, and I had time for little doodles too. The light blue images and dark blue text look calmer than the red-black combination I used in some of my other sketchnotes. The brush size worked out fine in terms of the proportion.
I didn't switch pen sizes or vary the size much because I wasn't sure what was going to be important. Instead, I used simple borders to emphasize key points.
I've been experimenting with using a light shade to add more depth to my images. It usually takes me five minutes to go through an image. I didn't do it here because the size and detail of the images felt right already.
Drawing with plenty of whitespace around each element allowed me to easily reposition things when I needed to rebalance the columns and reorganize the information. I'm sometimes tempted to go for more creative, overlapping layouts, but I do like the flexibility of being able to change my mind. I usually publish things shortly after drawing, so I didn't spend a lot of time tweaking this image.
What would I like to improve?
I've been experimenting with different colour schemes. The first colour I drew the images in was too light, so I used GIMP to change the curve to something darker. Depending on what I want people to focus on, I've been trying out light text / dark images vs dark text / light images. It would be great to find a quick way of experimenting with the same image. Experimenting would be easier if I drew text and images on separate layers, but the presentation was information-dense, so I didn't feel comfortable switching back and forth. I've tweaked my standard colour palette to include a darker blue like the one I used for the images here. That way, I can keep the light blue for shading, and I don't have to adjust the colours after drawing. Next: Tweak my colour palette, and find a way to experiment more easily.
The presentation was only 30 minutes long. It turns out that the usual size I draw things at results in a one-page-per-hour sort of density, so I used only half the page. (Hooray for consistency!) It might be good to develop a dot grid that's calibrated for half-hour talks so that I'm encouraged to draw at a larger size while preserving my usual landscape aspect ratio. Still, these columns worked out fine. Next: Try a different-sized dot grid for short talks, or get used to drawing larger.
It was pretty fast-paced, too. I don't feel like I've fully captured the overall logic of the presentation. It would be nice to make this understandable for someone who hasn't seen the presentation yet, which I think I can do with a little post-work (adding headings, explaining things in sentences instead of keywords). It feels a little disjointed at the moment, and I think I missed potentially interesting points like the one about the monoculture. The individual components are enough to remind me of what I want to remember about the talk, though. Next: Add more time for post-processing so that I can draw anything I missed the first time around.
—
Check out the other submissions! First set, second set: Kevin Mears (second set) has a good printout image. I like Andy Fisher's (second set) puppeteer image, the cute robot, and the whitespace balance of the page.
---
Visual book review: To Sell is Human (Daniel Pink)

Lots of people sell, even if they don't know it yet. Selling – convincing someone – is a normal activity. In his 2012 book To Sell is Human, Daniel Pink shares a few practical tips on how to sell more effectively through attunement, buoyancy, and clarity. Good read with research-backed tips and illustrative case studies.
Click on the image for a larger version.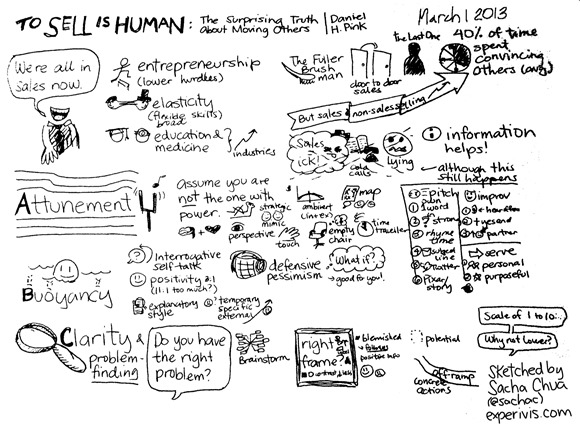 Feel free to share this under the Creative Commons Attribution License! Links are appreciated. =)
Amazon affiliate link: I earn a tiny fraction if you buy something from Amazon's site after clicking on the link, even if it has nothing to do with the book. =)
If you have a library near you, you can check it out there too. (I totally love the Toronto Public Library!)
---
Imagining an index of sketchnotes

With sketchnotes gaining in popularity, I'm often curious about how other people drew a talk. TED talks are popular for sketchnoting practice, and sketchnoters are beginning to bump into each other at conferences as well.
There are many avenues to share or discover sketchnotes, such as The Sketchnote Handbook Flickr Pool and the wonderful graphic recordings at Ogilvy Notes. Sketchnote Army is a blog that features lots of sketchnotes, and Twitter searches turn up even more. But there isn't really something that'll help you bump into other sketchnotes of the same talk, or even sketchnotes of the same conference.
Are we at the point yet where multiple people might be sketchnoting something? For popular TED talks, yes, and many conferences might have sketchnoters in the crowd. I think it would be interesting to make it easier for people to find each other and compare notes.
So I registered sketchnoteindex.com and created a quick spreadsheet to get a feel for the data that would be good to capture and how we might want to organize it. (Prototype with the lowest-effort thing first!) In addition to indexing topics, I'd like to eventually build an image and visual metaphor index too, so we can see how different people have represented time. Text search would rock someday. In the meantime, I put together a quick text prototype as an excuse to learn more about the Ember.js framework, although I'm thiiiis close to chucking it all and using Emacs or a Ruby script to generate static HTML.
Some things to consider:
We want to avoid spam and build good data for navigation. I can start off manually indexing sketchnotes, and then open it up for submission (possibly with an assistant).
Many sketchnotes don't indicate their licensing, so technically, they'd be all rights reserved. We can link to things, and include thumbnails if we have permission.
I can coordinate with Sketchnote Army (Mike / Binaebi) for submissions, and I can set up notifications for other sources.
Revenue model: Advertising? Flesh this out into a system where conferences can pay a small fee to have branding on their page? Do this as a volunteer because I want to learn more about sketchnotes along the way? Hmm…
Right now, Ember.js pulls the data off the CSV I exported from my Google Docs spreadsheet. That way, I don't have to create an admin interface or anything else. I'm not actually using Ember.js' features (aside from a little templating and a few models), so I may swap it for something else.
So this was about eight hours including data entry (300+ sketchnotes; I did it myself instead of delegating because I wanted to sketch the idea out quickly), going through the Ember.js tutorials, and fighting with Javascript.
---