Entries Tagged as 'sketches'
Learning how to work with stock photos: Can you help me?

The advice these days is to include a large image in your blog post, somewhere "above the fold", so that it can attract attention, visually break up the page, and make your blog post more interesting. That way, blog themes that use featured images can include that as the thumbnail, and magazine-style feed readers (I use Feedly) can make your posts look cool. The image should be relevant. If you're using someone else's image, observe copyright and attribution requirements.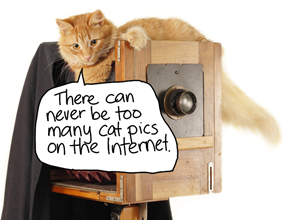 I like cats, so I'm going to bend the rule about relevance and add a cat picture here.
If I want to learn more about visual language, stock photos and Creative Commons images might be good ways to do that. Less work than taking pictures of things myself, and more realistic than drawing.
One of the reasons I dislike stock photos is that they can feel fake. You know, the bunch of all-white (or, rarely, obviously diverse) business people who are way too excited about a meeting. See Corey Eridon's post on 13 Hilarious Examples of Truly Awful Stock Photography. I don't think the examples are awful, but you'll recognize the clichés.
What does "good" look like? Of the blogs I read, which ones use images consistently, and what do I prefer?
Lifehacker uses images well, and it looks like they customize their photos or make original ones too. Dumb Little Man, Priceonomics, Wise Bread, Blueprint for Financial Prosperity, and Under30CEO include images with every post, although sometimes the images look a bit… stock-y. So I have role models.
What do I want to learn from using stock photos?
I want to be inspired by the way human emotions and situations can be translated into different contexts. I want to expand my collection of visual metaphors. I want to get the hang of matching ideas with comics (or making my own).
What's getting in my way?
Thinking of the right keywords, and being happy with the search results. For example, let's say that I want to express the concept, "being frustrated with search results." Needle in a haystack? Frustrated person?
This is kinda what I mean. Sometimes it's easier to draw than to search.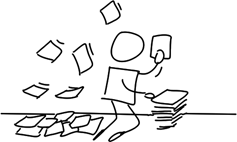 It's this odd combination of too many choices, and yet not quite what I'm looking for – but I think that has more to do with skills I need to develop, ways I need to learn how to see and think.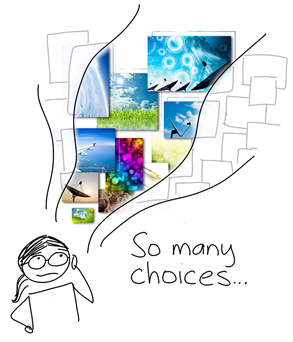 How do you learn how to use images anyway? Most of the blog posts and web pages I've seen just harp on copyright, assuming you've got the sense to pick out images on your own. If I want to get better at this, I need to get better at brainstorming concrete images for abstract concepts, coming up with keywords for more efficient searching, piling up sheer exposure – stuffing lots of stock photos into my head until I build my "stock photo vocabulary," or my visual vocabulary in general.
TIPS
I filtered through more than a hundred pages of Google search results related to how to choose stock photos. Here are the best resources I've come across so far:
WAYS I CAN LEARN
A. Write the post first, then look for images.
More topical and closer to my existing workflow, but can be frustrating because of my criteria. I don't want fake-looking models or situations. I don't want meaningless fluff or
On the plus side, if I spend half an hour searching for an image and still can't find it, I probably have a better idea of what I want and how it's different from what I've seen. Then I can draw it.
B. Browse for images first, then follow the inspiration to write posts (maybe with my outline).
Possibly fun, possibly a time-suck. Randomness is my friend. There's always plenty to write about, so I'm not too worried about finding a topic – although I do want to make sure that each post is fleshed out enough so that it's not just an excuse to share an image.
Have you taught yourself how to work with stock photos and blog posts? Can you help me figure out how to build my stock photo vocabulary?
Cat image based on this one by vita khorzhevska, Shutterstock
Stream of images based on this one by kangshutters, also Shutterstock
Update 2013-08-16: One of the ways I'm coming to terms with stock photos is to mix them up in some way – add speech bubbles, doodle, and so on. It's fun. It turns it into a game. If you use stock photos on your blog, what do you do to stop making it look generic?
---
Turning 30: A review of the last decade

Thirty is an excellent milestone birthday. The twenties involved tons of change—and unlike my teenage years, I can actually remember and reflect on what I learned during my twenties. (This is not entirely true. I can remember bits and pieces of high school and university. I don't have good notes, though.)
At thirty, I'm at the threshold of even more changes. I don't know what the next ten years hold. There are at least two excellent but wildly divergent paths I could take. We'll just have to see.
Hollywood movies tell me that I should be lamenting my happy-go-lucky twenties or trying to squeeze in that last hurrah before I settle down. When was the last time I listened to them, anyway? I've long since swapped my New Year's Eve staying-up for my now-traditional tuck-into-bed-long-before-the-fireworks-go-off. I survived my twenties without going clubbing or getting bitten by the travel bug, so I'm already well outside the Hollywood playbook.
I'm looking forward to turning thirty. And forty. My real goal is to get to ninety and more with an awesome life, so I'm just a third of the way there. Plenty more to go.
A blog is an awesome time machine. It's a little mind-boggling, but I've been blogging for almost twelve years. Last year, I made a compilation of my favourite blog posts: not necessarily the most useful or the most commented, but the ones that I wanted to remember for decades. I rated all my posts on a scale of 1-5, and kept only the ones that I rated 5. I called the compilation Stories From My Twenties (although I cheated and threw in a handful of blog posts from my late teens). As an experiment, I had the cheek to charge for it. (Not much, just the rough equivalent of a cup of hot chocolate. Now it's pay-what-you-want, so you can treat me to lunch if you feel particularly nice.)
Good thing I did that, because it made reviewing the past decade much easier. Here's my twenties in one page: (Click the image for a larger version)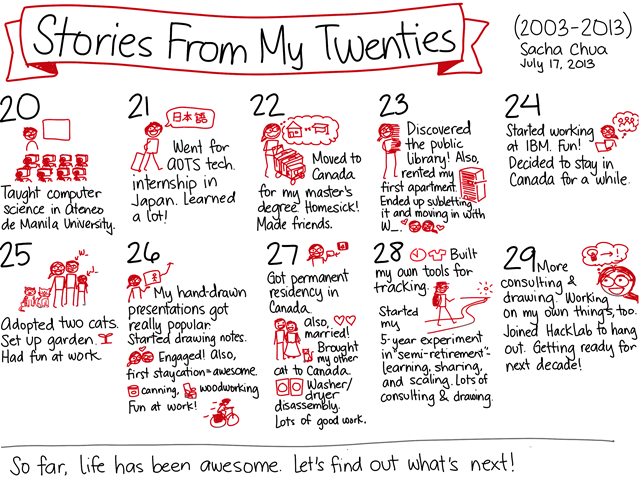 Things I do better or more often now than when I was 20:
Learning and sharing interesting things
Planning, taking calculated risks, making decisions
Dealing with life, business, paperwork, etc.
Drawing and visual thinking
Reviewing the past and imagining the future
Tracking data and analyzing it, managing finances, and so on
Building tools and learning technologies
Being more independent
Things I probably do worse or less often:
Asking for help
Hanging out with friends or family
Teaching
Travelling
Here's what I want to do for my thirtieth year:
Learn about all sorts of interesting things in life, tech, visual thinking, and more.
Share: Get into the habit of creating resources, like these drawing tutorials and blog posts based on my outline. Release the resources with the pay-what-you-want model so that the ideas can go as widely as possible while still allowing people to show their appreciation or vote with their dollars.
Scale by organizing my site so that people can find good stuff, even if I'm not awake to help people find things.
Oh, and get back to working on those relationships with people outside the house, as tempting as it will be to spend all my time at home. =)
---
Sketchnote: Fun With Dead Languages: Damian Conway

Here are my notes from Damian Conway's talk "Fun With Dead Languages". =) I heard him give an older version of this talk years ago, and I'm amused to find that my Latin dabbling gave me a much deeper appreciation of this talk.
As always, click on the image to view a larger version, which you can print out if you want.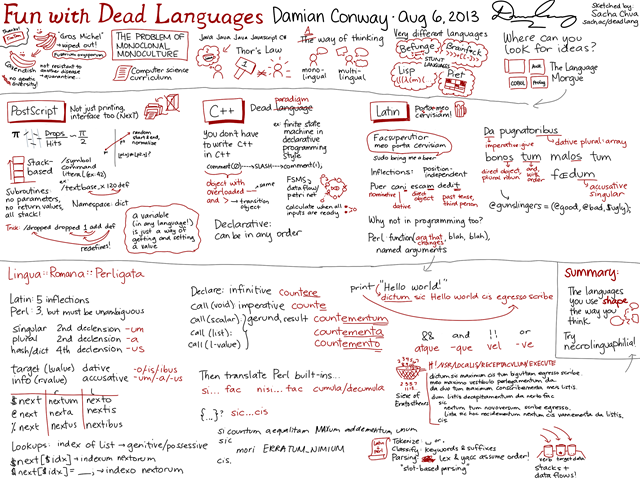 Please feel free to share this under the Creative Commons Attribution License! =)
If you like this, check out Damian Conway's site or this paper on Lingua::Latina::Perligata. Like these sketches? Check out my other sketchnotes and visual book reviews.
---
My evolution as an "artist", or why there's hope for you yet

Although my mom had enrolled me in a couple of art camps and classes when I was a kid, I was definitely not one of those instinctively drawn to it. I had classmates who spent all their free time (and much of class) doodling in sketchbooks. I immersed myself in text, reading books, writing notes, programming computers. Well, I'd been mindmapping since grade school, so visual thinking was already part of my life – but it didn't captivate me as much as text did.
Here's how I rediscovered drawing.
2007. J- had been looking forward to getting a Nintendo DS. Since there were some interesting games with cooperation modes and one of the stores had a decent sale on Nintendo DSes, I bought myself one as well. I immediately loaded it up with an application called Colors DS, which let me draw using the Nintendo's stylus. It was a lot of fun.
This was fun, so I started drawing on paper too. It wasn't nearly as awesome, but it was a good mental challenge.
I got into drawing my presentations on a whim. In 2008, I was a technology evangelist and web developer at IBM Canada. I was passionate about how social business systems like internal blogs and communities could transform the way organizations worked. An IBMer in New York told me that whenever she went on campus tours, the students she talked to simply couldn't grasp the idea of why anyone would want a social network at work. To help her out, I put together a presentation.  I figured – why not make my rough storyboard the actual presentation? So I drew it on my DS and made this:
People liked it. A lot. And they wanted to know how I made it, so I made this:
And then I started sketching most of my presentations, because it turns out you can get away with stick figures instead of bullet points even at IBM:
I had some space in my opportunity fund. Since I was drawing a lot more than I used to, I decided it was time to invest in tools. I didn't think I had the hand-eye coordination for working on a Wacom tablet attached to the monitor, so it was a toss-up between getting a tablet PC or a Cintiq tablet that lets you draw on a screen. I sprung for the Cintiq 12WX, reasoning that it would let me keep upgrading the computer it was attached to instead of locking me into something with limited upgrade capability. Using it with Inkscape was great, because I could tweak my drawings until they kinda looked like what I had in mind.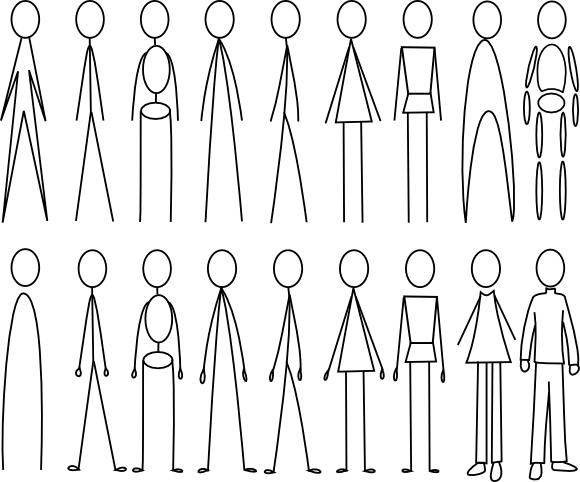 When Slideshare organized a Best Presentation Contest, I thought, why not? I didn't think I stood a chance in the "serious" categories, so I went for the self-introduction one instead.
I won, which was a little mind-boggling. My prize was an iPod Touch, which I immediately used for more drawing.
In 2009, I made a couple of other presentations that got pretty popular: The Shy Connector:
and A Teacher's Guide to Web 2.0 at School.
I helped organize lots of innovation workshops at IBM. I started drawing there too. It turned out this is called graphic facilitation. I took notes at other people's presentations. This one is from Gary Vaynerchuk's talk at DemoCamp in Toronto: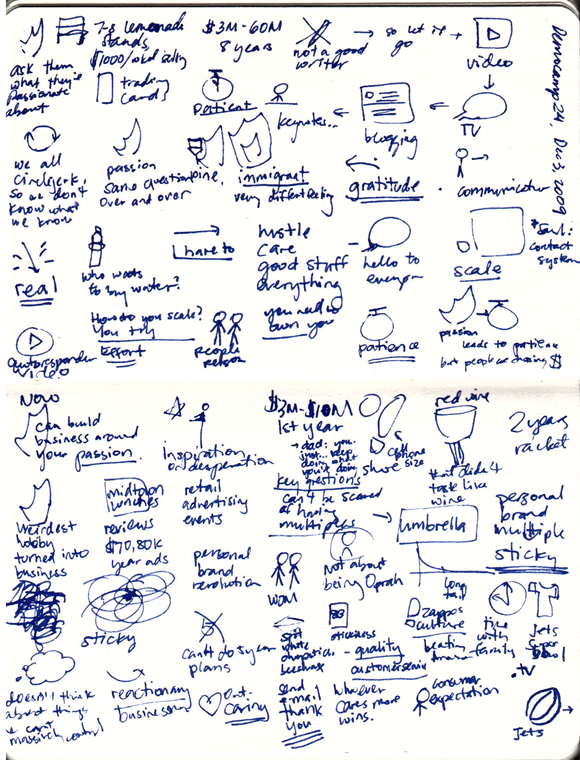 Getting a tablet PC made a huge difference in how I drew. The Lenovo X61 was my first tablet PC. I bought it second-hand in 2010 and started drawing right away. For the first time, I could draw digital notes at meetups.
In 2011,  I switched to using Autodesk Sketchbook Pro. I even started giving presentations using it.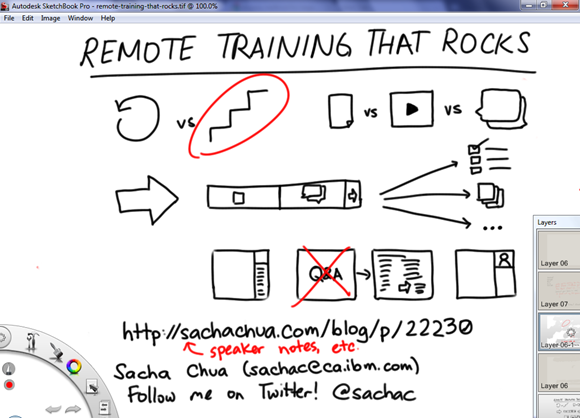 I looked at other people's work for inspiration, and I played around with my own. I really liked how Exploding Dog and Hyperbole and a Half managed to say so much with simple figures and vibrant colours, so I tried that out.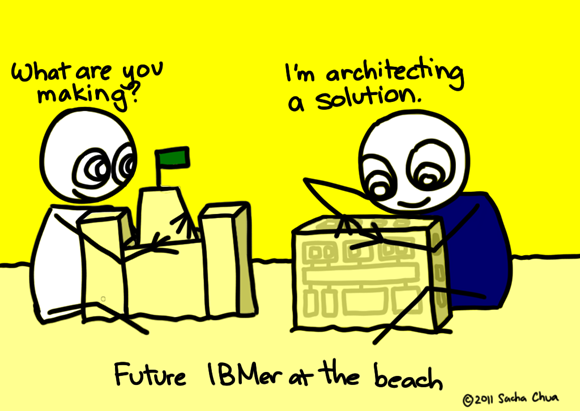 I still don't feel particularly confident about colour, though. Seriously, I have the computer figure out complementary colours for accessorizing. So I draw mostly in black and white, like in this three-word life philosophy.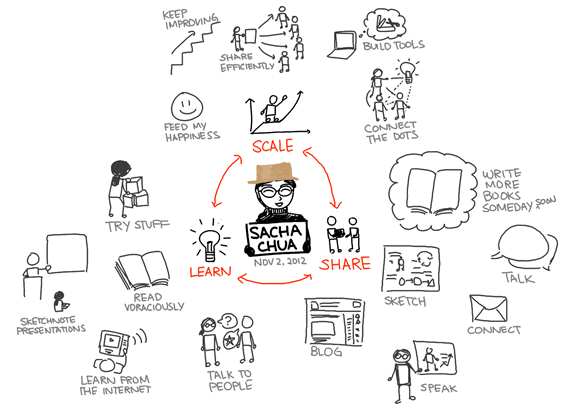 If you compare how I draw now (black and white stick figures, with some colour for accents/highlights) and how I drew in 2007 or 2008… there's not that much difference. I still draw stick figures. I still don't have a lot of depth or fancy layouts. I still don't use pressure sensitivity. My lines are still a little wobbly. I use fewer colours, even. I like the colourful explosion of my Katamari drawing! I should make stuff like that again.
The main difference is that I know my tools more, I guess. I know how to set up a grid so that my text is mostly straight. I work with brushes so that my lines look clean and confident. I work with layers so that I can redraw or erase or move things around. I know that digital drawing works out much better for me than paper does. I know that I don't have to be an "artist" and I don't have to make art – I just have to make something that makes me smile.
From time to time, I'm a little bit envious of friends who doodled and drew their way through years and years of practice, and who can now make these beautiful drawings just from their imagination. It's okay. I can draw well enough for my purposes, even if I probably draw worse than my 7-year-old self could. =)
So that's my "evolution". I haven't actually made much progress in terms of drawing skills, because I haven't needed to. Simple stick figures turn out to be enough. In fact, I probably won't try to draw amazingly well, because I want to keep things approachable for people. I want people to look at this and say, "Hey, I can do that." If anything, I've probably only grown in terms of vocabulary, confidence, and understanding. That's just a matter of practice, and I'm looking forward to getting even better.
---
Sketchnote Lessons: Banners and ribbons

Banners and ribbons are a quick way to emphasize parts of your drawing. Instead of drawing the banner and then trying to fit the text into it, try drawing the text first and then drawing the banner around it. Here's a step-by-step example.
1. Draw the text with plenty of space around it

2. Draw a box around the text.

3. Add two small triangles below the box.

4. Draw horizontal lines extending beyond the triangle, and another set of lines the same distance from the top of the box.

5. Add a ribbon edge if you want, or use a straight line.
Want to get fancy? Add some shading, add more folds, and so on.
Here are some examples that you can practise with: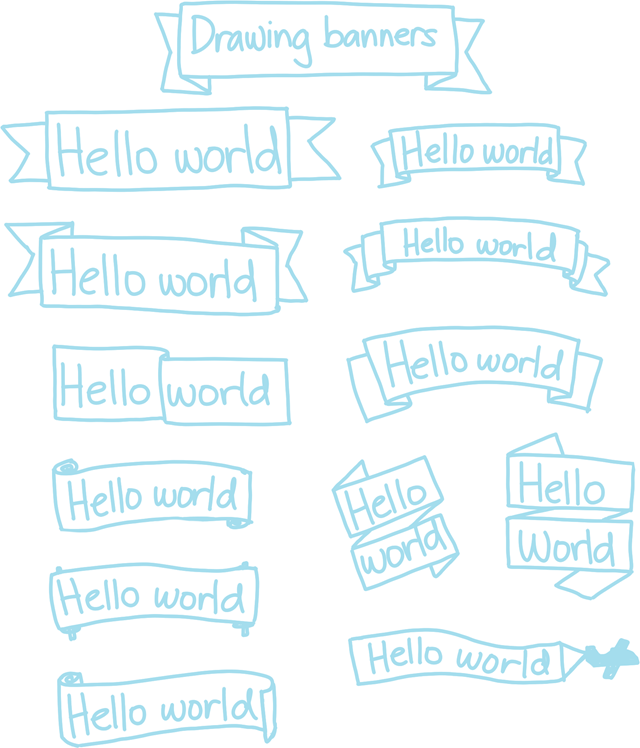 Check out Kevin Dulle's tutorial for other ways to emphasize things with shadows. Enjoy!
---