Entries Tagged as 'sketches'
Visual metaphors and layouts for planning your life

Marty Pauschke was interested in sketchnoting/drawing as a way of planning your own life. I find drawing to be really useful in making sense of my life and planning ahead, because it allows me to see the bigger picture. Here are some types of diagrams and visual metaphors that I use. I'd love to see yours!
Life as a journey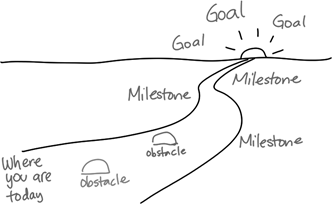 You can think of life as a journey. Imagine what the destination looks like, and think about the milestones you'd like to see along the way. You can draw obstacles and think about ways around them. This is great for celebrating your progress so far and seeing what's next.
Example: 2012 as a sketch
Arrows
Here's another way to look at it: as a target that you're reaching with an arrow. Sometimes it helps to think about the goal first, then work backwards: what needs to happen in order for you to reach your goal? What needs to happen for that to happen? Continue until you get to actions you can take today.

Crossroads
Of course, life isn't a simple journey – it's full of decisions. Sometimes it helps to think about what some different possible outcomes are, and what you like or dislike about each one. Then you can figure out what you're leaning towards.
If you're looking at multiple decisions, a simple diagram might be easier to make and read.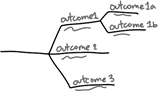 You can see the branching-off points and think about what information you need in order to make the best decisions at each stage.
Mindmaps and other diagrams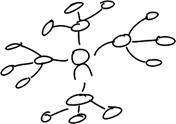 Great for branching out into detail. Example: Imagining the next five years and planning 2013. You don't have to stick with having one central idea. Play around.
Charts are handy, too – make up your own labels and chart types! Example: Mapping my work happiness
Timelines

Timelines are good for remembering because you end up filling in the blanks.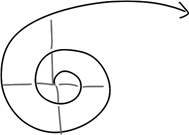 I like making spiral timelines because they give me different amounts of space for things that are more important to me (ex: more recent memories). Spirals can go the other way, too – zeroing in on a goal.
Strengths, weaknesses, opportunities, threats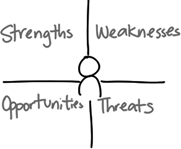 The SWOT analysis is used a lot in management schools and in consulting, and it's useful for personal growth as well. I like focusing on my strengths and finding workarounds for my weaknesses.
Pre-mortem and post-mortem analyses

Speaking of weaknesses, I like doing pre-mortems – anticipating ways something could go wrong. Gravestones are a nice touch. Example: Experiment pre-mortem
These are just some of the ways I use drawing to help me remember and plan. How do you draw your life?
---
Sometimes you don't know what you know until someone asks; why I like preparing talking points for podcasts and chats

Update 2013-07-31: You can find a table of contents and associated links at http://sach.ac/accel. Here's the video!
Quick link to talking points as a Mural.ly map
From time to time, I say interesting-enough things that make people want to pick my brain further. When people do, this is excellent! Sometimes I don't know what people will find useful or interesting until they ask. When the opportunity comes up, I try to wring out as much as I can. In the podcast interviews I've done so far, I've always been delighted by what we learn from the conversation.
An interview is entirely different from a presentation, and it would be a waste to treat it as one. I love where other people's questions, interests, and experiences can lead me. So I don't want to structure it too much – but I also want to give people the benefit of clear thoughts and useful replies. Having struggled with making good conversation myself, I also want to help people find things that they or other people will like instead of wandering until they bump into something good.
It's a little like the media training I got when I was at IBM. One of the tips I remember is to think about your story before you talk to people. You don't have to stick to the script, but you should know the key points you want to get across, and try some ways of expressing it so that you can be clear and concise.
So here's what I e-mailed to Timothy Kenny in preparation for our chat about accelerated learning (which will be this afternoon):
I thought about what I do the most differently and what your subscribers will probably benefit from. Here are some topic ideas. How about picking whichever one you think will resonate the most? =) I'm sure there'll be future conversations, so we don't have to get everything covered in one chat.

Sketchnotes

Ideal outcome: People are inspired to take visual notes for their own use
Learning and reviewing presentations and books; Connecting with people; Understanding your thoughts; Sharing what you know

Making the most of your blog through the years

Ideal outcome: People are encouraged to blog for the long term; people who have been blogging a while are inspired to organize their work
Weekly, monthly, yearly reviews; Indexes; Other people as part of your memory; Collections; Backups

Tracking and experiments

Ideal outcome: People are inspired to make better decisions by tracking
Time; Money and an opportunity fund; Clothes, decisions, etc.; 5-year experiment with retirement

How it all fits together

Ideal outcome: People see how the different techniques can support each other, and they are motivated to take the next step
The flow of learning; How different techniques work together; Getting started; Getting better; Going from strength to strength

Continuous improvement in everyday life

Ideal outcome: People examine their processes
Understanding your processes; Handling weaknesses; Building on strengths; Learning from experiments
He wrote back to say that he was curious about sketchnotes, blogging, connecting, learning flow, and what I considered my strengths and weaknesses in terms of learning.
I spent some time on Saturday night thinking about what I've learned and what I want to help other people learn. A podcast isn't the place for technical instruction; blog posts are better for that because I can include step-by-step tips, links, and other resources. A podcast or videocast is great at communicating enthusiasm, helping other people see that they can get started. It's also great for the back-and-forth, bringing two people's ideas together.
So my goals for the chat are:
Inspire people to learn more about some learning techniques that they might find useful
Encourage people to get in touch with me
Explore follow-up questions that I may want to write about or draw
Learn interesting things about Timothy Kenny or share other tidbits that can lead to further conversations
In preparation, I drew this on Saturday. (Click on the image for a larger version!)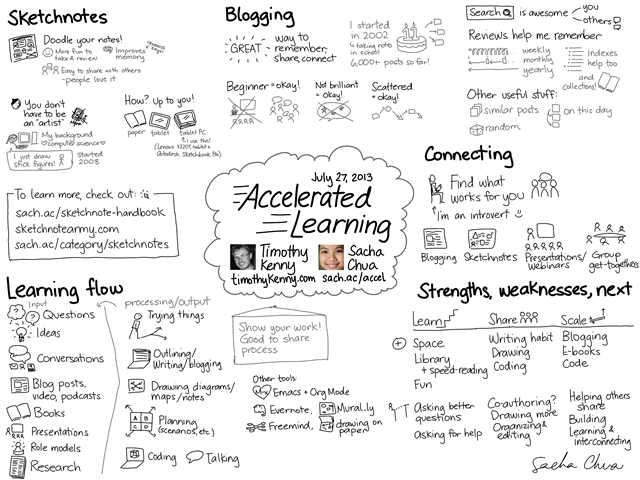 (Not only do I sketchnote events, but I can sketchnote the future! 

)
The idea is that these talking points can let Timothy pick whatever he wants to focus on, while giving him a peripheral awareness of related topics or other things we can talk about. They also give me visual aids that I can refer to (or draw on top of!) during the chat, which is probably more interesting than watching a bunch of talking heads. And if we run out of time or focus on some things instead of others, no worries – the blog post and the sketchnote will be there as a way to follow up. =)
I've done this before, like the digital sketchnoting workflow that I sketched in preparation for my podcast with Mike Rohde (episode, transcript). Our target time for that was 12 minutes, so it was great to be able to zoom in and talk about key parts knowing that other things could be left for the blog post or sketchnote.
I discovered the power of sharing my notes (showing my work!) when I was giving a lot of presentations. Knowing that my talking points were on the Net somewhere (ex: my Shy Connector presentation for Women in Technology International, or my talk on How to use Evernote to improve your visual thinking) meant that I didn't have to worry about forgetting anything important, because people can always look up my notes. It gave me more freedom to ad-lib or go off-script, too, following whatever people were interested in.
So really, the main reason to come to one of my presentations or to interview me is to ask questions and figure out answers together, which is exactly the way I want it. If I can do the braindump outside the time we have, then we can use the time for interaction. In presentations and conversations, I want to give people just enough to get good questions. Questions are my pay-off for the preparation. Questions spark my curiosity and turn into follow-up conversations and blog posts and presentations.
Unrelated observation: making my own URL shortening thing was totally worth it, even if the domains are expensive. Much better than squeezing long domain names into my sketchnotes. Although I'm still flipflopping between sach.ac and liv.gd in sketchnotes because I think my nickname is hard to spell… Any opinions?
I'll post the recording when it's up, and I'll probably work on transcribing it too. Fun!
---
Here's the e-mail announcement that Timothy sent:
Hundreds of years ago during the Renaissance, creative geniuses like DaVinci revolutionized science by visualizing information for the first time. Huge leaps were made in engineering, math, architecture and physics because of this new focus on visualizing information.
A new visual Renaissance is coming…
Today at 1PM EDT (New York Time) I'm interviewing Sacha Chua on her accelerated learning techniques and especially how she visualizes information to learn faster and understand new concepts better.
Click Here to Join the Hangout:
https://plus.google.com/events/c1irfbcfio2q6qn20387trhdnjk
Sacha is also a programmer. Programmers have the ability to see and create systems because coding requires that you build a system to process information.
All businesses are systems. And the more you can systematize your business the more stress free it will be for you. The starting point for understanding systems is learning how to get them down on paper as visual diagrams (much the same way programmers sketch out their program on a white board before building it) and that is a big piece of what we will be discussing today.
We're doing it live so you can chime in with questions or observations during the interview.
Why You Should Come
Many people know about learning and productivity hacks but I have never met someone who actually put so many of them together into such a coherant system.
Sacha is also a visual genius. She created both of the images below. You will learn how she does it and why it is so important to get comfortable drawing and visualizing for your business and your learning.
What We Will Talk About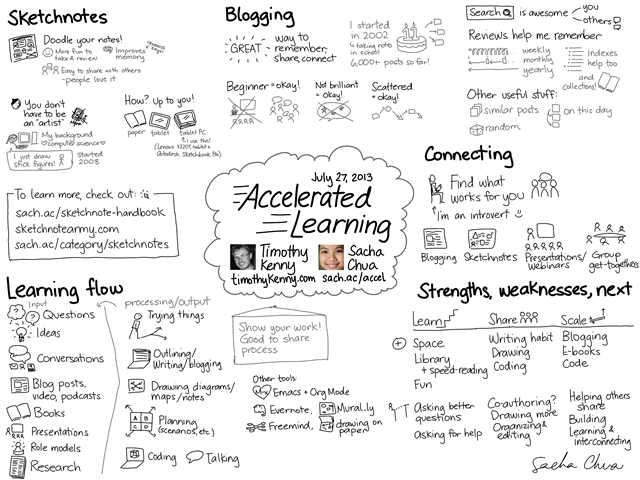 Example of Sacha's 1 page visual book reviews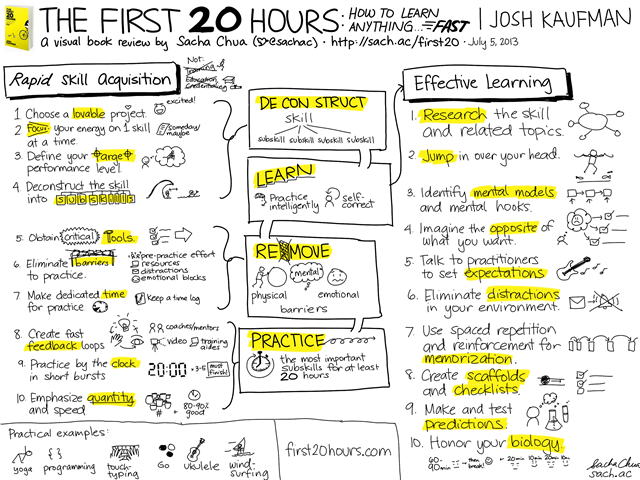 See you at 1,
Timothy
PS
Sign up for the Hangout here, then check out the learning profile I did on Sacha here:
http://timothykenny.com/accelerated-learning/accelerated-learning-profile-sacha-chua
---
Visual book review: The First 20 Hours: How to Learn Anything… Fast (Josh Kaufman)

The idea of learning a new skill can be overwhelming. If you break the skill down into specific things you can learn, it becomes much more manageable. Tim Ferris used this to hack cooking (video) by dissociating it from shopping for groceries or cleaning up. Josh Kaufman's new book The First 20 Hours fleshes out how to rapidly learn, illustrating it with stories, examples, and practical tips for a wide range of skills. A key insight? You don't have to be amazing, just good enough to enjoy the skill, and 20 hours is enough to get you there if you learn effectively. (Even if it turns out to be more complex than that, stick with it anyway, and then see where you are at 20 hours.) Click on the one-page summary below to view or download a larger version.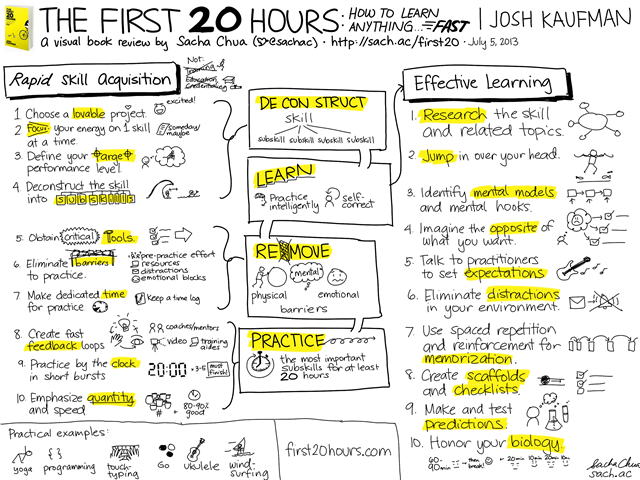 Feel free to share this visual book review! (Creative Commons Attribution – I'd love it if you link back to this site and tell me about it. =) ) It should print out fine on letter-sized paper, too. The book is both practical and entertaining, especially if you've been curious about some of the areas he covers in his chapters. =) While the advice is common sense, the application of the advice makes it interesting – and the stories might nudge you into taking similar steps towards the skill you'd like to develop the most. Besides, the book has stick figures in the chapter on yoga and shell commands and a Ruby tutorial in the chapter on programming. Not that many books can pull that off, although if you're the type who reads things like travel books for just one chapter, you might grumble about paying for all the other chapters you're not interested in. 20 hours isn't going to make you an expert in something, but it might get you farther than you think. Intrigued by the ideas? You can check your local library to see if they have a copy, or buy your own: The First 20 Hours (affiliate link). What I'm going to do with this book One of the benefits of this experiment with semi-retirement is that I have the time and space to explore what I'd like to learn. Not all of it at once, but I can certainly make decent headway on a few skills I want to improve. I rarely start from scratch, so it's not that I'm really spending my first 20 hours on something – new interests are usually offshoots of something that I already do well or enjoy, because unfair advantages lead to other unfair advantages. I like programming, writing, going through flashcards… I even get along with accounting.
The biggest new thing that I don't yet intrinsically enjoy is strength training, which (as the name indicates) is probably more about
training
– my body has to adapt to it, and that takes time.
So, let's pick another skill. Something that I haven't dived deeply into, but that I'm curious about. Some candidates:
Creating animated videos (and not cheesy fake-written ones, either)
Programming speech recognition macros (NatLink)
Visualizing data with D3.js or other visualization libraries
Of the three, I think visualizing data with D3.js will be the most fun for me. I can break that down this way:
Manipulate the data into a form that's easy to work with in D3.js
Create typical graphs
Create custom graphs
Add interactivity
Use D3.js for non-graph applications
Integrate the visualizations into web apps or blog posts
In terms of barriers, it's really just about sitting down with some data and the documentation. I've worked with D3 before. I just have to practise enough to grok it. The most important skill to master first, I think, is creating typical graphs. If I get that into my brain, I can imagine custom graphs and other applications from there. So learning this skill might involve doing "programming kata": take an existing data set and visualize it in different ways using common chart types. It's also useful to look at how other people are breaking down skills and learning them. Duncan Mortimer (who I think is the same as the Duncan Mortimer behind this WriteOrDie mode for Emacs?) wants to write blog posts better. He came up with this list of skills that he wants to work on in terms of blogging:
Choosing a topic

Brainstorming
Asking yourself questions
Topics that choose themselves — blogging what you're learning or as you're learning

Drafting the post

Structure
Avoiding editing while writing
Writing quickly

Editing the post

Textual tics
Restructuring

Publishing the post

Scheduling posts for future publication
Uploading to the hosting service
Adding categories and tags; making it 'discoverable'
I'm also interested in writing more effectively. For me, the key things I'm working on are:
Outlining: Planning the structure before I start writing. Doesn't work for all the posts, but I might be able to use it to speed things up. Practice: Flesh out my sharing outline (hah, you can even send patches or make suggestions through the issues queue) as a separate activity from writing. (See how I'm doing so far in terms of time.)
Illustration: Coming up with a hand-drawn image to illustrate my blog posts nudges me to think about the key point or idea in the post, and it's good practice for sketchnoting too. Practice: It's like adding an item to my blogging checklist to quickly sketch an image if I can.
Anyway, here's the book again if you're curious. Disclosure: I'll get a small commission if you buy anything from Amazon using the links in this post, but you could also see if your local library has the book. (I got this one from the Toronto Public Library!) Check out first20hours.com for more info. Like this? Check out my other visual book reviews!
For another visual take on this (pretty colours!), check out Cynthia Morris' summary. Enjoy!
---
Sketchnote Lessons: Drawing Emotions

Want to make your drawings more interesting? Add emotions! Drawings of emotions can communicate so much more than words describing emotions, and they do so in an immediate, visceral way. For example, consider the list of words below, and the faces beneath them.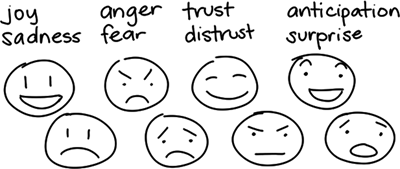 Even if you don't think you're an artist, you can draw basic emotions easily. Simple combinations of eyebrows and mouths say a lot. You can show different degrees of emotions by emphasizing parts.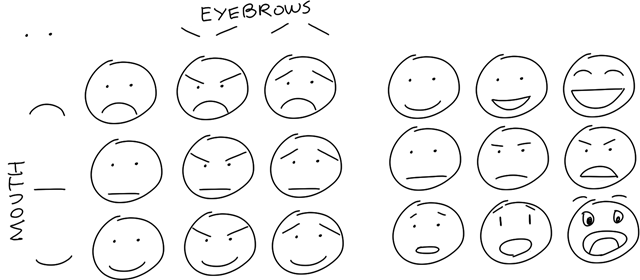 You can combine emotions, too. For example, angry eyebrows + happy smile = evil overlord plotting to conquer the world. >=)
Play around, and you'll find even more emotions that you can express with small changes to the face. For inspiration, you can look at smileys and emoticons.

Icons and symbols let you be even more expressive. You can pick these up from comics and smileys.

Emotions aren't just expressed with the face. Posture can communicate emotions powerfully too. Explore the physicality of emotions by looking at how actors show feelings, or by imagining yourself feeling those emotions.

You can also show emotions in how people relate to each other.

Metaphors are fun to play with, too.

Learning how to draw emotions isn't just useful for sketchnoting. You can draw emotions in order to understand other people better. Mindmaps or empathy maps can help. You can draw your own emotions, too. When I'm faced with a difficult situation or a confusing tangle of emotions, I try to break down the different emotions I feel and the reasons why I feel that way. When you understand why you're happy and sad and worried and excited all at the same time, it's easier to move forward.
Want to learn more about drawing emotions? The best resource I've found so far is the Bikablo Emotions book, which has a lot of full-body emotions. Here's a sample of the drawings I made based on part of the Bikablo Emotions book. (There are even more emotions in the book – check it out!)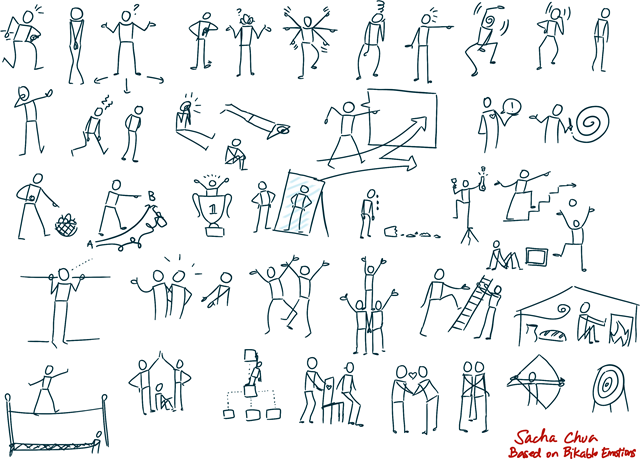 Children's books are a good source of emotions. I remember loving the Mr. Men and Little Miss series when I was growing up, and I look forward to discovering other wonderful illustrations as I go through the library's collections. =)
Comics are another great way to learn more about expressing emotions, from the concise forms of newspaper strips to more elaborate drawings in comic books.
And then there's learning about all these emotions in the first place, because it helps to be able to recognize the emotion and give it a name. Wikipedia has a few good pages: Contrasting and categorization of emotions, Emotion classification. HUMAINE proposes a classification of 48 emotions (see Wikipedia for an easier-to-read list) The Center for Nonviolent Communication lists 259 emotions in their feelings inventory.
I'm thinking of going through those lists and practising drawing all these different emotions. Want to join me? I'll post stuff here once in a while, and I'd love it if you sent me links to your drawings!
Do you want to see this as a screencast / webinar? Send me your e-mail address below, and I'll notify you if I get that going!
[contact-form-7 404 "Not Found"]
---
Almost every morning, we can count on being meowed awake by our cats. They seem to do this in shifts so that only one cat is meowing at a time. They don't really have a snooze button or a time sitting, but they seem to pause for a little bit if you meow back or fully close the door.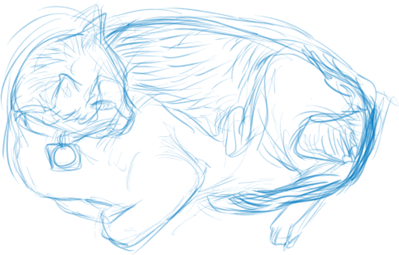 This is one of our cats, Neko. (Yes, I have a cat named "cat" in Japanese.) She's usually the early morning meower. We've been trying to figure out why she meows. So far, we've determined that:
it's not about breakfast, since there's plenty of food,
it's not about water, since she has that too,
it's not about being able to drink from the bathroom faucet, since she doesn't always do that even when I offer, and
it's not about not having company, because she still meows me awake even if W- is up and about.
My current hypothesis is that Neko is checking if I'm still there, since she doesn't meow W- awake if I'm already up. It seems to match experimental observations. She's only temporarily satisfied by voice; she insists on seeing me. She doesn't cuddle or anything, just walks downstairs with me and goes about her usual cat life.
I raised her myself (hello, 2AM and 6AM soy milk feedings!), but when I moved into the dorm for university, I saw her only on weekends. And then there was that six-month span when I was in Japan, and four years (four!) when I was in Canada. Whenever I was home, Neko took to sleeping on top of me, probably to make sure I didn't go anywhere without her knowledge. (Then she would bite my ankles at 5 AM so that I could let her out of the room to do her business.) My mom says that even though Neko avoided her most of the time (my mom's not a cat person), Neko would cuddle up with her whenever I left on my trips.
Leia is usually the next one to meow. She usually meows if our door is left open a crack (for circulation), but closing the door often helps. Leia just wants to be picked up and cuddled. (She usually sticks around in the bathroom, meowing, until I get the message.) Luke is the meower of last resort. I think he meows because he wants someone to play with and sometimes the other two cats won't give him the time of day. (Luke is usually the only cat at our door when he's the one meowing, while we often wake up to all three cats waiting if it's Neko meowing.)
I try to avoid anthropomorphizing the cats too much, but it's fun to speculate at what goes on in their head, especially if you can test the hypotheses. =)
Neko is about ten years old now, and the other cats are four years old. The Internet says that indoor cats tend to live between 13 and 17 years. There will come a time when our mornings are quiet. In the meantime, I can appreciate the racket; our cats and their quirks.
One of the tricks I picked up from A Guide to the Good Life: The Ancient Art of Stoic Joy is that of negative visualization: imagining loss in order to enjoy a deeper appreciation of what you have. I practise it frequently. Not so much that I dwell on it, but enough to sharpen my enjoyment of life and be ready for the inevitable sadness. There will most likely come a quiet morning, maybe years from now, when I'll look back at this sketch and and trace the outline of a memory. I practise imagining loss with pets, with friends, with family, with W-. Emotional exercise.
Sometimes I'm up earlier than I'd like, but the cats are worth it.
---