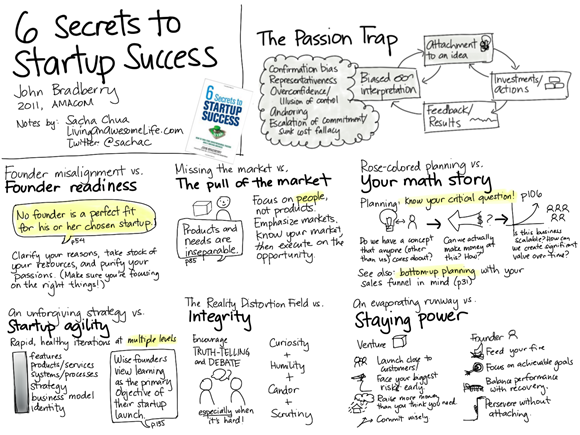 (Click on the image to see a larger version, which could be good for reading my teeny-tiny handwriting. If you need a text version instead of an image, leave a comment or e-mail me at
[email protected]
.) You know how I was looking for books about
people-centered entrepreneurship
? Checking the Amazon list of books on new enterprises led me to
6 Secrets for Startup Success
by John Bradberry. Its main point is that entrepreneurs tend to fall in love with their ideas and end up ignoring reality. Bradberry points out six common failures associated with being too attached to your idea, and suggests ways to avoid those pitfalls. One of those ways is to focus on people instead of on your product or service idea. This is more of an overview book than a step-by-step guide with concrete tactics, but it's a good wake-up call if you're starting to get lost in your own dreams. In addition to the chapter about focusing on people, I particularly liked the chapter on figuring out
your math story.
Bradberry points out that companies go through different stages and that your core question is different in each stage. In the first stage, the question is: "Do we have a concept that anyone (other than us) cares about?" After you successfully answer that question through prototypes and experiments, you can move on to the question, "Can we actually make money at this? How?" Validating your business model lets you move on to the next question, "Is this business scalable? How can we create significant value over time?" Many businesses struggle because they get all wrapped up in the third question before they've answered the first. It's a good idea to keep those considerations in mind, of course, but it's important to pay attention to the steps that will get you to that point instead of jumping ahead and pretending you're a huge company.
What I'm learning from this book:
Yes, it seems to make sense to focus on people and let them teach you what they want. (The Lean Startup makes this point as well.) There's room in the world for wildly visionary companies, but it's perfectly okay (and much less risky) to start by creating something people already want.
Whom this book is great for:
Worried that you're getting too wrapped up in your entrepreneurial vision? This book might help as a reality check. If you like answering questionnaires as a way of learning more about yourself, you'll also want to check out the appendix, which has a long self-assessment for founder readiness. You may also be interested in
The Lean Startup (Eric Ries, 2011; see my visual book notes)
, which has lots of good ideas for testing your business and iterating your way towards success. The Lean Startup book will help translate the chapters on the pull of the market and startup agility into concrete terms.
6 Secrets to Startup Success: How to Turn Your Entrepreneurial Passion into a Thriving Business
John Bradberry 2011, AMACOM ISBN: 978-0814416068 Buy this book: Amazon.com (
Hardcover
,
Kindle
),
Amazon.ca
If you buy stuff through the links above, I get a small commission, yay! Commission-free links:
Google Books
,
Toronto Public Library