Sketchnotes 2012
3 Comments »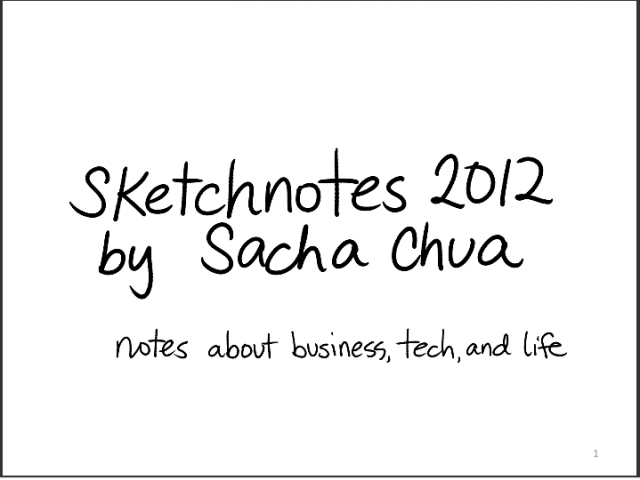 People tell me that they love the notes I take on books and presentations. There's something about a visual summary that makes it much more fun to read than blog posts or slides. They're a great way to discover interesting things to learn, jog your memories, or share an idea with someone else.
Here's a collection of my sketchnotes from books, events, and other thoughts in 2012, covering business, technology, and more. Enjoy!
Notes on making this: I wanted to put together a collection of my sketchnotes to make it easier for people to flip through them instead of going through all these posts on my blog. I didn't want to just list them in chronological order, though. I wanted to organize them by topic, with a table of contents to make it easier for people to find what they're interested in. Here's how I did it:
I moved my 2012 sketchnotes into topic-related folders.
I used Microsoft Powerpoint's Photo Album feature to import the images, one per page.
I deleted sketchnotes that were too low-res or that were unclear.
I moved sketchnotes around in order to group them by themes. (Ex: All the Entrepreneurship 101 sketchnotes together, all the Lean Startup Conference sketchnotes together…)
I added a custom slide layout with a title and a page number near the bottom of each page.
I manually resized the images in order to make space for the label, and I typed in all the titles and speaker/author names. This makes it possible to find text and jump around, and it also simplified the creation of a table of contents.
I added section dividers.
I copied all the titles into a spreadsheet and added a column for page numbers.
I figured out how to lay out the tables of contents. Since Powerpoint doesn't have a table of contents feature, I had to do this by hand. Every time you add a continuation page for a table of contents, all the following page numbers have to change! It took me more than six tries to get the Business section right.
… I discovered I'd forgotten a set of sketchnotes that had been saved in another directory, so I added them and redid the tables of contents. Sigh.
Once the pages had stabilized, I drew the overall table of contents and welcome message. I added invisible boxes (no fill, no outline) and made them hyperlinks.
I hyperlinked each page number and title in the tables of contents to the corresponding slide. It turns out that triple-clicking a table cell selects the text, and you can type a number into the hyperlink box opened by Ctrl+K to select that slide… except if the slide number is made up of repeating digits (ex: 33), in which case you'll need to page down a little to get it. (Or type in the following slide's number, and then move up one). This was time-consuming, but I hope the hyperlinks are useful!
Then I exported the file to PDF, uploaded it to Dropbox and Gumroad, and wrote this page. =)
It was a fair bit of work, but I want to learn more about organizing what I know into things that can help other people learn, so it's worth it. =)
How can I make the next collection even better? Please suggest improvements by commenting here, using the contact form, or e-mailing me at [email protected] . Thanks!