Update: I found the image!
Mia is learning more about personal finance. She came across my post on my financial network map and virtual envelope system and wanted to know if I had a copy of the image. Unfortunately, I don't seem to, but it's as good a time as any to post an update.
What's changed in the last two years? What have I learned about personal finances?
One of the key things I think people should learn when they're mapping out how they organize their money and how they want to organize their money is this:
The logical organization of your money doesn't have to be limited by the physical organization of your money – which bank accounts, which jars full of coins, whatever.
I make my logical decisions first: how much to save, what to save for, what levels of risk to accept. Then I use those decisions to guide how to organize my money: chequing, savings, GICs, investments; registered, non-registered, tax-free, etc.
I use a virtual envelope system to keep track of what I'm saving up for and how much I've budgeted for regular expenses. I like this more than a straightforward budget because of the flexibility. If I have a surplus in one category (say, I don't sew as much), or if I need to spend more in a more important category, I can move money around.
Current envelopes (no particular order):
Retirement: maximize RRSP room every year
Medium- and long-term investments: non-registered
Charity
Sabbatical: replace one year of income every 7 years
Household
Internet: web hosting and domain names
Phone: cellphone service
Pet care: cat food, vet visits, long-term savings (self-insuring our pets)
Travel: visiting family
Personal care: clothing, supplies, health, massages, etc.
Hobbies
Dream: Larger expenses worth saving up for; experiences
Play: Miscellaneous expenses
I track almost all my expenses, with miscellaneous cash expenses grouped together if I can't categorize them properly.
I keep my financial data in plain text files using John Wiegley's awesome ledger tool. It's very geeky. I use it because I can quickly answer questions like:
How much do I spend on groceries each month?
What are the balances in my virtual envelopes?
At what prices did I buy my index funds?
How much did I make last year after tax?
I use more financial institutions now. It does take me a little bit of time to check on my accounts at all of them, but I think the benefits outweigh the costs. Here's how and why I use each of them:
ING Direct: I've been using ING for savings for a while, and I've also shifted my payroll direct deposit to the chequing account I created. I use ING because of decent rates on GICs, the ease of creating sub-accounts, and instantaneous transfers between chequing and savings accounts. I don't want to make it my only chequing account, though, because the bank machine network isn't as wide as the other banks.
PCFinancial: I used to use this as my main chequing and savings bank before I moved to ING. I also used to use this as my primary credit card before I moved to MBNA. I keep these accounts around mainly so that I can withdraw cash easily.
TD Canada Trust: I have a chequing account and a USD account here. The chequing account has the minimum balance needed to avoid fees. This account is mainly to make it easier for me to invest at TD (see TD Waterhouse).
TD Waterhouse: I switched from TD Mutual Funds to TD Waterhouse so that I could hold investments in my tax-free savings account (TFSA). I have three types of investment accounts here: my non-registered investments, my tax-free savings account, and my registered retirement savings plan. All of them currently hold TD e-funds, but I may shift to ETFs later on.
MBNA: The MBNA Smart Cash credit card gets me 3% cashback on groceries and 1% cashback on everything else, beating PCFinancial's effective 1%.
Sun Life: Sun Life holds my defined-contribution pension plan from work. I maximize the IBM match, but I keep the rest of my long-term investments at TD because I get lower management expense ratios for similar index funds there.
Overall, I'm at about 6% cash, 20% GICs, 49% Canadian index funds, 9% US, 9% international, and 7% bonds. 31% of that is in my RRSP. It skews a bit more conservative because of the GICs.
Update: Here's the old map: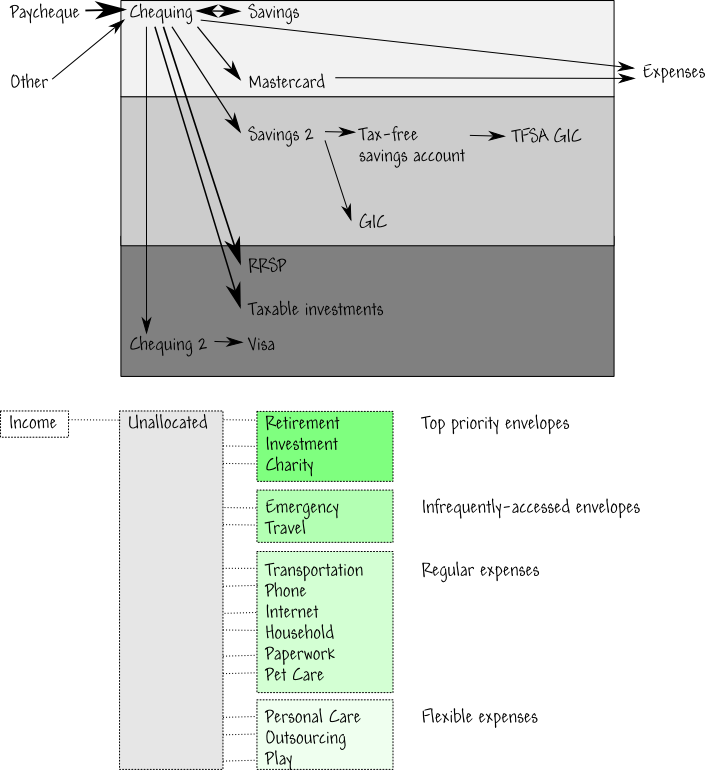 Here's what that map looks like now:

It takes me 15-30 minutes a week to update my accounts, reflect on my expenses, and review my goals. I like the steady progress.
Good personal finance is boring. ;) It's mainly a matter of time: saving up, adapting to changes, letting interest compound, learning more… The next thing might be to move money from index funds to ETFs in order to take advantage of the teensy difference in management expense ratios, but it's no big deal. I'm on track to make my savings target this year. I can't do anything about the markets, but I can do something about how much I save. We're getting better at what we spend on, too, as we learn more about what we value and enjoy.
What have you learned about personal finance?