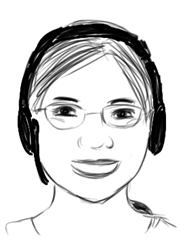 This is my Logitech H800 wireless headset. I bought it so that I could try dictating to my computer using Dragon NaturallySpeaking 11.5. The wireless headset that came in the NaturallySpeaking box never quite fit on my ear. It was always falling off. The Logitech H800 fits me well, and the voice recognition software has no problems with it.
The headset turned out to be pretty handy for other things as well. Bluetooth support meant that I could pair the headset with my phone. I started listening to classical music when working on my computer. I listened to podcasts while I tidied up the kitchen, watered the garden, or went for a long walk.
The headset charges using a micro-USB cable, and can be charged while in use. This is great, because I always forgot to charge my previous headset in time for me to use it. We use micro-USBs for so many other devices, so we always have cables handy. The downside? Between listening to music over Bluetooth and using my phone's GPS to track exercise, I need to remember to charge my phone at every opportunity I get.
The Logitech H800 headset comes with a mini receiver that's small enough to stay plugged into a laptop all the time. Unfortunately, it's not a Logitech unifying receiver. Now I have two of those slim-profile Logitech receivers plugged into my laptop (mouse and headset). That leaves one USB port for flash drives, charging, and other things I want to plug in. I haven't gotten into the habit of carrying around a powered USB hub, but I'm close to it!
Decision: Better than I expected, although FutureShop sold the headset for quite a bit more than the Amazon US price. I picked it up at FutureShop because I wanted to test the fit before getting it, and it worked out fine.