UPDATE 2012-11-15: Here's the video recap!
Click on the images to view larger versions. I might redraw these sometime – I still have to get the hang of working with paper! =)
Building a Social Enterprise
Andrew Jenkins, Volterra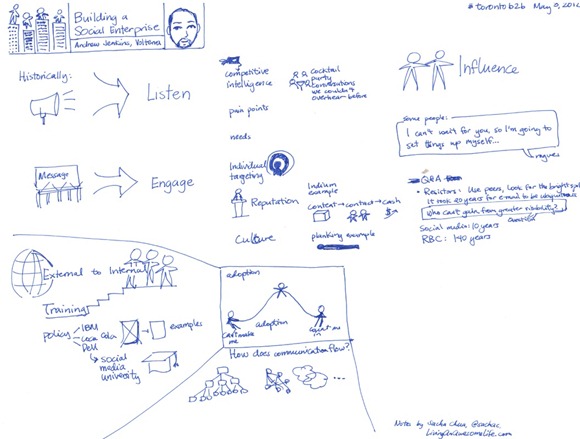 Like these? Check out my other sketchnotes, visual book notes/reviews, and visual metaphors.

Here's the text from the sketchnotes to improve people's ability to search for it:

Building a social enterprise

Building a Social Enterprise
Andrew Jenkins, Volterra
#torontob2b May 3, 2012

Historically:
Listen
competitive intelligence
pin points
needs
cocktail party
conversations we couldn't overhear before

Message
Engage
Individual targeting
Reputation
Culture
Indium example
content contact cash
planking example

External to Internal
Training
examples
policy
-IBM
-Coca Cola
-Dell
social media university

adoption
can't make me
adoption count me in

How does communication flow?

Influence

Some people: I can't wait for you, so I'm going to set things up myself…
ragues

Q&A
-Resistors: Use peers, look for the bright spot.
It took 20 years for e-mail to be ubiquitous.

Who can't gain from greater visibility? question
Social media: 10 years
RBC: 140 years

Notes by Sacha Chua, @sachac, LivingAnAwesomeLife.com




You can comment with Disqus or you can e-mail me at sacha@sachachua.com.