These sketchnotes are from the SOHO SME Expo 2012. Unfortunately, I missed parts of the other sessions!
Feel free to share this! You can credit it as (c) 2012 Sacha Chua under the Creative Commons Attribution 2.5 Canada licence.
Click on the images for a larger version of my sketchnotes.
Come One, Come All: Proven Tactics to Help Win New Customers – Alex Ciancio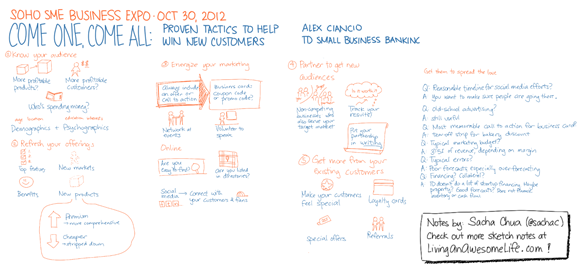 Tools, Strategies & Best Practices to Optimize Your Online Presence – Moderator: Dave Forde; Speakers: Jeff Quipp, Paul Tobey, and Mike Agerbo
Content Strategy – The Foundation of SEO and Social Media – Jeff Quipp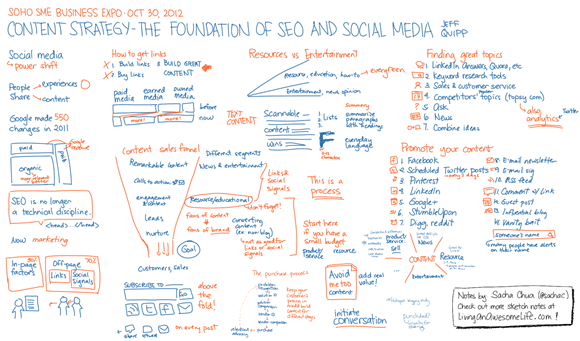 See what others are saying about #sme2012.
Check out my other sketchnotes and visual book notes!
Text for searching
SOHO SME BUSINESS EXPO – OCT 30, 2012 – MODERATOR: DAVE FORDE
TOOLS, STRATEGIES & BEST PRACTICES TO OPTIMIZE YOUR ONLINE PRESENCE
JEFF QUIPP
Social media
Word of mouth
enabled by tech
advertising is a tax for being unremarkable – someone
Pinterest, instagram for photos
build a following
Social media success
Blend Tec
Will it blend ?
remarkable content
Testimonials on product pages,
Stuff that people want to share
Connect with people you might not otherwise chat with
Getting started: WordPress
Update your website often –> frequent search visits
Remarkable content
test with stumble upon ads
article syndication
Penalties
(Google Penguin)
Search–> immediate
Social–> gradual
earned media
owned media
paid media
based on great content
CREATIVE GREAT BUSINESS
PAUL TOBEY
the watercooler of the 21st century
Microblog–blog
microblog
An hour a week has tremendous impact.
Timing how-tos, conversions
any time, esp. when your audience is reading
Social media updates also get indexed
Hypnotic marketing
focused mental state ?hook
You can't manufacture a viral video
GET TO THE HEART OF BUSINESS
Don't forget YouTube, reddit.
WordPress SEO
All-in-One
Facebook advertising
long term nurturing
Webinar
Boring is bad
Think context
LinkedIn connections
The money's in the list
MIKE AGERBO
another distribution/??? channel
YouTube: 1-2 minutes
5 min how-to videos < -- 2x views of YouTube Time Management Calendar-->batch–>schedule
Get that content down.
Get going and be consistent
Establishing yourself as an expert
– guest blogging
– newspapers
– other media
Title, tag videos Research virality
Foundation still content
You have to establish expertise
ex: webinar chunks
Editorial calendar < --- start here, then choose channels Pictures --> inspirational: pinterest
Webinar–>time
Target audience blocked? Tailor your content (no YouTube, etc)
BE PASSIONATE ABOUT YOUR CONTENT