If you're starting a technology business – or other kinds of businesses – you'll find many tips in Ash Maurya's book, Running Lean. In particular, he provides step-by-step guides for conducting problem interviews, solution interviews, and MVP interviews, all great ways to validating your business assumptions and make sure you're on the right track.
Here's a sketchnote that summarizes the key points from the book. Click on the image to see a larger version.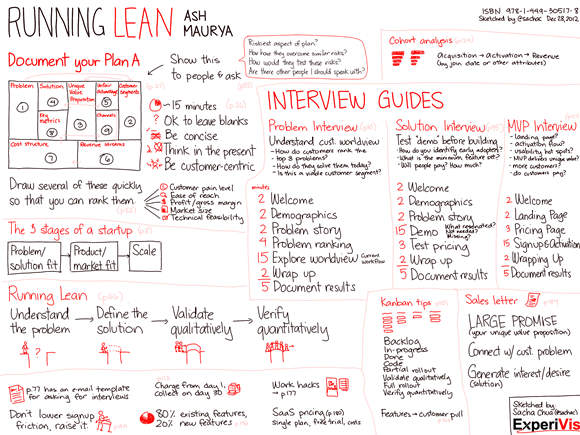 The business model canvas in Running Lean is released under the Creative Commons Sharealike Licence, so this image is as well. Enjoy!
Running Lean: Iterate from Plan A to a Plan That Works, Second Edition (O'Reilly). (affiliate link) Copyright 2012 Ash Maurya, 978-1-449-30517-8. Recommended for startup founders and early employees.
If you like this, you might want to check out:
One Pingback/Trackback
03 January 2013 at 11:01am
[...] my sketchnotes of Running Lean for more tips from the book, or check out my ...