How can you bring together different ideas in order to innovate? Red Thread Thinking (2013) shares guidelines for coming up with new ideas and recombining old concepts for profitable innovation, with plenty of stories of real-life products and services. It also includes some chapters on how to package the innovation for greater appeal (including simplicity, engagement, and design thinking), and how to train your brain and your intuition in order to make better decisions. Whether you're an idea person in a big company or a solo entrepreneur in a microbusiness, you'll probably find good questions and examples to jog your creative thinking. If you're tired of brainstorming sessions going nowhere or resulting in small, incremental improvements, try out what this book says about relaxing and generating ideas on your own before bringing them to a small group for expansion and refinement. (That said, incremental improvements can also be a good thing!)
After reading this book, I plan to experiment with the obscure feature method and the generic parts method. They might be great ways to sharpen my observational skills and see opportunities for everyday creativity.
You can click on the image below for a larger version.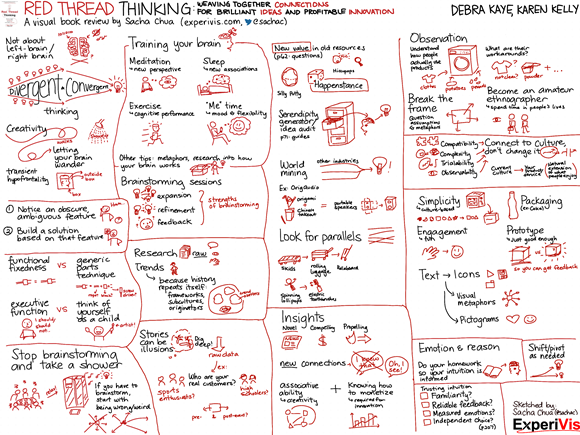 Feel free to share this visual book review! (Creative Commons Attribution Licence)
Amazon affiliate link: I earn a tiny fraction if you buy something from Amazon's site after clicking on the link, even if it has nothing to do with the book. =)
If you have a library near you, you can check it out there too. (I totally love the Toronto Public Library.)