Chuck Wall's book Customer CEO: How to Profit from the Power of Your Customers (Bibliomotion, 2013) is all about listening to the customer, with plenty of examples from established companies. While the tips may seem obvious (of course it makes sense to listen!), the chapters, examples, and advice make it easier to focus on each aspect of listening to customers so that you can shape your business around them.
Click on the image to view or download a larger version of my visual book summary/review.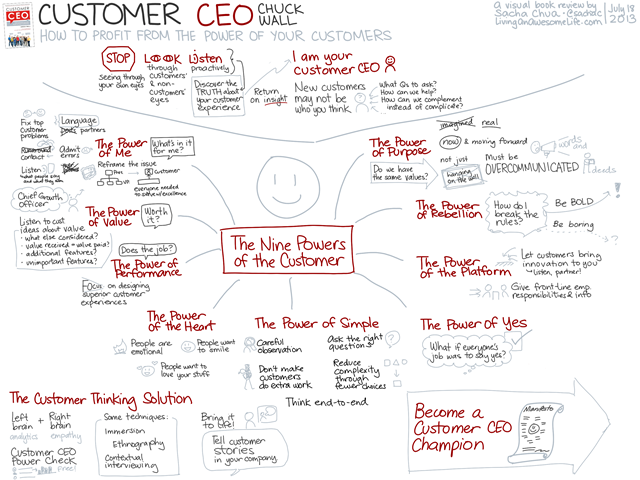 Feel free to share this visual book review! (Creative Commons Attribution – I'd love it if you link back to this site and tell me about it. =) ) It should print out fine on letter-sized paper, too.

For more information or a free chapter, see Customer CEO Consulting (their blog has lots of examples).

Intrigued by the ideas? You can check your local library to see if they have a copy, or buy your own copy below (hardcover / Kindle).

Disclosure: I received a copy of this book for review, and I'll get a small commission if you buy anything from Amazon using the link above.

You can comment with Disqus or you can e-mail me at sacha@sachachua.com.