Even with all the research you can do, you can't remove all the uncertainty from a decision. This is life.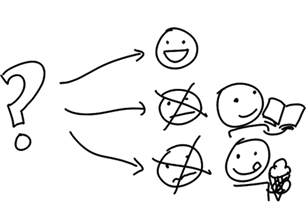 I cheat by making potential outcomes a little bit better with arbitrary conditions, in addition to any intrinsic value I can remind myself about. For example, I might prefer one set of results, but I'll promise myself sushi if the outcomes don't go my way. Or ice cream, or playing a video game, or reading, or some time spent writing. Since I don't have ice cream and other treats that often (that's why they're treats), the trick works.
I also try to focus on the intrinsic value of various outcomes. My favourite outcome sweetener used to be "If nothing else, this will make a great story someday," which is an excellent psychological benefit associated with keeping a blog. (Try it!) Other good ones for me are "Well, if it doesn't work out, it's good practice in equanimity," and "I'm sure I'll learn something." I remind myself of that before the uncertainty is resolved so that I don't feel like I'm sour-graping. Find whatever works for you. That said, sometimes it's fun to have an actual treat.
This is different from, say, drowning your sorrows in ice cream after the fact. Eating ice cream because you're sad is one thing; deciding to give yourself advance permission to eat a little ice cream if outcome B happens is another. Or at least it is for me – there's something about the mental trick of reconciling yourself with probabilities.
While a small concession doesn't completely make up for not getting a preferred outcome, it takes the edge off. It reminds you that nothing is a complete loss. Being grateful for the small things (even the ones that you've intentionally added to the outcome) can help kickstart gratitude for the rest of it. I'm good at enjoying small things, even if they happen because I decided to make them happen.
I also try to not place too much value on specific outcomes. It's not that A is better and B is worse. They're just different. Who knows, B might even be better for me in the long run. It's liberating to face the uncertainty and say, "Well, I'm going to be happy either way this goes, so let's find out what kind of happiness it will be."
So this is how I deal with decisions that could go one way or the other: I tack on little treats for myself so that I always have something to look forward to. Even if I rarely end up going down those paths, this practice is great for being optimistic and resilient. It makes life predictably awesome, even when life itself is unpredictable. After all, that's what consolation prizes are for.
Do you use a similar trick? How do you hack your thoughts and emotions when it comes to uncertainty?