Have you identified any role models for the skills you want to learn or improve?
When people tell me they want to learn more about something, I often ask them who they look up to as role models for the skills they want to build. It really helps to have a clear picture of what success looks like, and then you can play "spot the difference" to figure out specific techniques or steps for improvement. You might not want to do everything that your role models do or suggest, but studying them can show you options and ideas you might otherwise have missed.
I get a lot of value even through learning from role models from a distance. Since there are so many ways to learn, I generally don't want to ask for people's attention, so I rarely reach out. Instead, I try to build things up so that people talk to me. =) Other people get a kick out of getting e-mails, tweets, or comments from famous people. If you're one of those — or if you want to ask your role model for more specific advice — here are some tips for building that connection!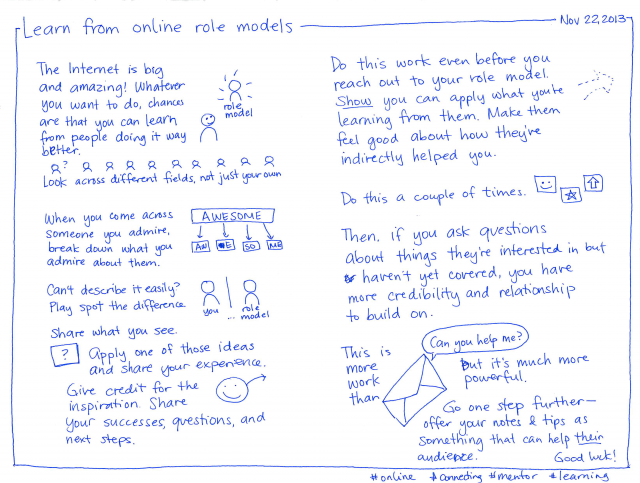 (Also, it really does help if you tell people what you're learning from them or trying to learn from them! =) Sometimes people don't know what they know until someone asks.)