A little too late for winter, I think, but I've gotten it into my head to make some pencil skirts from the dark red wool I used for a jacket, and the gray wool that I used for a jumper. I started with the red wool first. It wasn't as pretty as the gray wool, so I knew I wouldn't mind it so much if I botched the piece.
I used the Simplicity 2906 pattern for skirts (the second skirt pictured).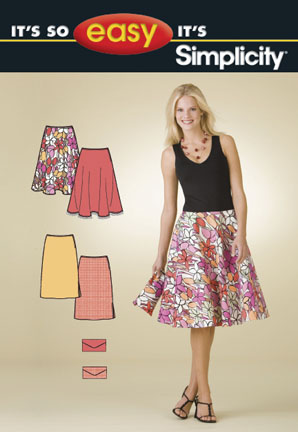 Instead of sewing darts, I eased the seams, and then used steam to shrink out the fullness. Result: excellent fit around the back, hooray!
I also sewed in an invisible zipper before doing the rest of the seams, or at least I tried to. Positioning the zipper correctly was an interesting topological exercise! The generic invisible zipper foot didn't fit my sewing machine, so I sewed the zipper in by hand. It's relatively inconspicuous, although not as hidden as properly applied zippers on ready-to-wear clothes.
The wool is a little itchy, but I can wear this with a slip. I may even line the other one. (Everything looks better lined anyway. ;)
I'm going to hang this skirt up so that I can hem it tomorrow, and I'll keep an eye out for something I can make into a slip. Given the warmer weather (hooray!), I may postpone sewing the other wool skirt. If so… Hmm… What would be nice to do next? A full skirt in red/white gingham check? Maybe get started on those Vogue shirt patterns I picked up yesterday? Hmm…
You can comment with Disqus or you can e-mail me at sacha@sachachua.com.