Posted: - Modified: | geek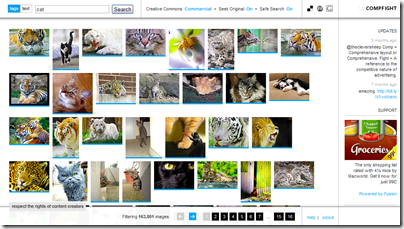 One of the hidden gems in David Gillespie's Digital Strangelove: or How I Stopped Worrying and Learned to Love the Internet is a hat-tip to Compfight, a Flickr search engine. I like the search interface more than Flickr's built-in Advanced Search, because you can continuously scroll through the thumbnails instead of paging through the results.
More Creative Commons search options would be nice. =)
What I really want is an advanced search engine that lets me specify subject position and dominant color, like Stockxpert's. Someday!
Thanks to Suzanne for the link!