John Grimme, my sister's fiance, celebrates his birthday tomorrow. (Well, today already, given time in the Netherlands.) He gets this bad pun because of his deep love for lumpiang shanghai, and because I've decided to get lots more drawing practice. =) Makes me wish I thought of making birthday illustrations like this earlier! Oh well, I'll just have to do some drawings for other family members on other occasions.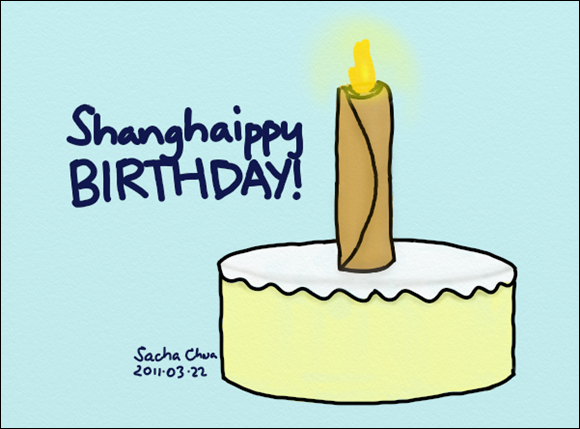 He probably doesn't need this recipe, but here it is for other people who are curious.
Lumpiang shanghai
These ingredients can be changed quite a bit. Experiment!
500g ground pork (fat is okay)
1 large onion, chopped
a few cloves of garlic, chopped
1 medium-sized carrot, grated
salt and pepper to taste
spring roll wrappers: look for packages with photos of golden-brown deep-fried delicacies on them if you need to be sure, as rice wrappers don't work as well as the other kinds do
egg, beaten (for sealing)
plum sauce (for serving)
Mix everything but the egg, the wrapper, and the plum sauce in a large mixing bowl. Test the seasoning by frying some of the filling in oil until the pork is cooked, then tasting it. When the filling tastes good, make the spring rolls.

Take a spring roll wrapper and spread it on a plate or saucer. Put a teaspoon of filling slightly below the wrapper center, in a long finger-width line. Leave space on either side of the filling so that you can tuck the ends in. Fold the near corner of the wrapper over the filling. Fold the sides inwards. Moisten the far edges of the wrapper with some of the egg, then roll up your wrapper until you reach the end, rolling it as tightly as you can.

(*Optional: Wash your hands, browse the Internet for a video on how to make it, then get back to making lumpia.)

Make as many as you can until you run out of wrappers or filling. If you run out of wrappers first, you can turn the rest of the filling into meatballs or little patties. If you run out of filling first, you can use the wrappers for other fried goodies.

If you want to freeze any of the lumpia, you can do so now. (When Tita Gay came over for our wedding, we made well over 300 pieces of lumpia. Everyone had all the lumpia they could eat, and we enjoyed the extras for almost a month afterwards.)

When you've made a batch of lumpia, heat 1-2 inches of oil in a frying pan until a piece of bread sizzles or until the oil smokes. (This is why we don't make lumpia often – frying can be  scary!) Fry the lumpia a few at a time, turning or rolling them so that they cook evenly. Avoid overcrowding them, and give the oil time to heat up again between batches. Lumpia is done when it turns crispy and golden brown. Let them drain on paper towels or in a strainer, and break one open to test if it's cooked inside. If it is, eat the evidence. Stop yourself from eating more. Fry up another batch. Test those for quality, too. Remember to leave some for your guests.

Serve warm, with plum sauce.

You can comment with Disqus or you can e-mail me at sacha@sachachua.com.