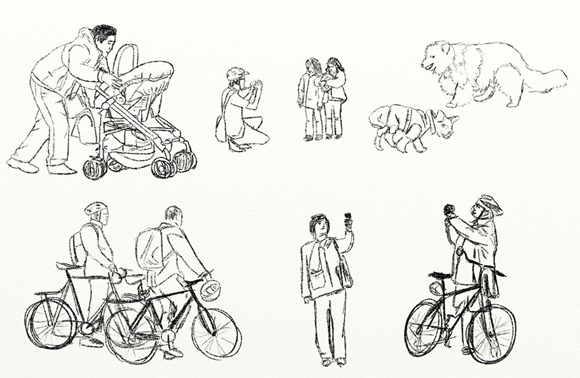 I'm teaching myself how to draw by cheating. For example, while waiting for friends to come join me in seeing the cherry blossoms at High Park, I took pictures. I traced the parts I liked.
I like the way drawing makes photography more fun. Instead of trying to position myself to get a good picture without any distracting elements – or at least to minimize photo-editing – I can take reference pictures of just about any situation. The pictures will come in handy when I need to draw a bicycle, a stroller, kids, whatever.
It's fun. It may not be as awesome as drawing things from scratch, but I can get the hang of that eventually.
I drew this sketch with ArtRage Studio Pro on my Lenovo X220 tablet. I like the way the paper grain interacts with the pencil tool so that my sketch lines are inexact.