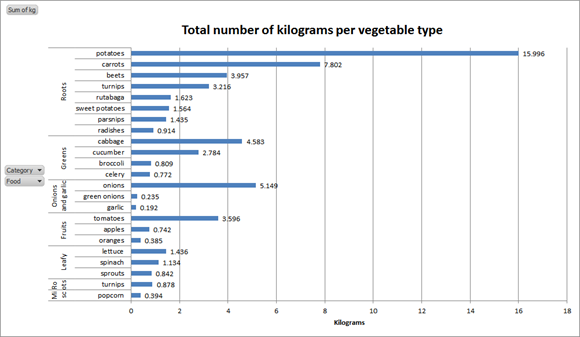 Click on the image to view a larger version.
I weighed everything we received from Cooper's Farm for this season's community-supported agriculture program so that I could compare it with Plan B Organic Farms. The numbers always surprise me when I tally things up at the end. Did we really go through that many potatoes? Wow, we actually got more onions than cabbage. Sure didn't feel that way.
Getting vegetables bi-weekly instead of weekly definitely helped stave off the "oh no I'm swimming in vegetables" feeling. Some food was still wasted, though. Some of the beets got mold before we could do stuff with them (they came moist) and the rutabaga and turnips stumped us. But we managed to plow through most of the vegetables.
We averaged 5.5kg per delivery, which was less than what we received with Plan B Organic Farms (see my fall analysis). That was a fall share, though, so winter/spring is understandably smaller in terms of the harvest. I opted for Cooper's Farm because I thought the delivery might come in really handy during winter, but this winter was unusually mild, so I didn't end up with as many "thank goodness I don't have to trudge out for vegetables in the snow" moments as I thought I might have. That's okay.
I wish someone else was keeping track of what the corresponding Plan B Organic Farms results were! Oh well. =)
This season, we're going to skip the CSA and buy our vegetables ourselves. I want to see what that comes out to in terms of cost and whether we still get through as many vegetables without the forced commitment of a vegetable box. We'll see!