You'll often find me taking notes in a small paper notebook that I tuck into my beltbag for easy access. I like taking notes on paper more than I like taking notes on my smartphone because:
I don't have to look down when taking notes.
I don't have to worry about battery life. My phone runs out of battery frequently enough even without using it for notes or web browsing, because I use Bluetooth and GPS frequently.
I can add little sketches here and there.
My notebook habit started in 2006, when I was a graduate student at the University of Toronto. My mom reminded me that living like a student didn't have to mean denying myself all sorts of things, so I splurged on my very first Moleskine and started writing in it.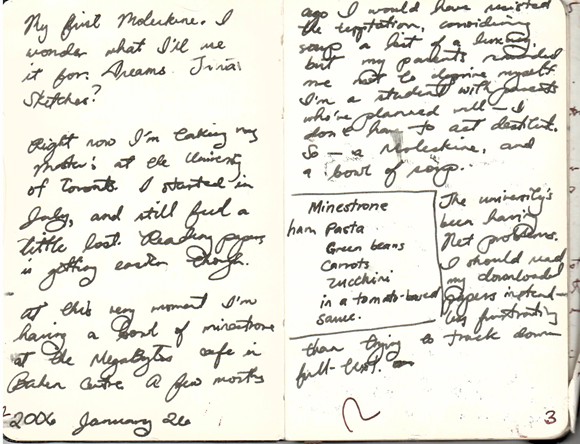 I've filled a few of these notebooks over time. I don't write in them consistently. Sometimes there are gaps of weeks or months when I take notes on my smartphone or my laptop instead.
Many of the pages are lists: things I'd like to do in Toronto, reasons for starting a business, ideas to try. Many of the pages are notes from conversations. Few of the pages are straight-up journal entries like the one above, as I prefer to type in my reflections so that they're saved in Org Mode.
Workflow:
Scanning the notebooks
We have a Samsung SCX-4828fn printer/scanner/copier/fax. The scanner supports both sheet-fed and flat-bed scanning. For batch scanning on Microsoft Windows, I used Picasa's import function. (XSane on Linux is more configurable, though.) I set up my foot switch to click on a button in the scanner program so that I could scan the next page without touching the mouse. I put the notebook on the flat-bed scanner, hit the footswitch, waited for the scanning head to finish the page, and then flipped to the next page while the scanning head returned to the ready position.
Well, technically, there was also the set-up step of hooking up a second monitor and picking things that would run on that second monitor so that I could watch screencasts while scanning. =)
You can do the same setup without a foot pedal (keep your mouse within easy reach) or a second monitor, but those things made it a lot more fun for me.
Reviewing the notebooks
Picasa makes it easy to flip through images, and I've been using that to "star" pages and add tags. I've also imported quite a few of my notes into Evernote in order to take advantage of the handwriting recognition.
I saved the images in my Dropbox folder and uploaded them as private albums to Google Photos, so I can refer to them on my Android phone too. That's pretty nifty. I may spring for the Evernote premium subscription so that I can sync and search the handwriting in my notebooks when I'm offline, too. (Still cheaper than a data plan.)
Updating my notes
Haven't done this yet, but updating my scanned notebook pages with additional notes should be easy to do with Autodesk Sketchbook Pro or something like that. Hooray for tablet PCs! I might use git or something similar for version control, but it's not important.
Partial notebooks
Partially-used notebooks are harder to scan because I have to remember to come back and scan the last section, and I can't seem to change the import filenames in Picasa (one of the reasons why XSane is awesomer). Anyway, I'm going to focus on filling the pages of the partial notebooks, then I can scan them in one go. I tend to update previous pages in my current notebook (lists, recent conversations, etc), so I'd prefer to scan them only when the notebook is finished. I see scanning as a way to carry digital copies of my past notebooks with me, so that works out nicely.
Lessons learned
Cursive script is hard to quickly read. I think I'll stick to printing letters.
Conversation notes are ephemeral.
Lists are useful for a long time.
Thanks to Markus Zmija for the nudge to write about this!