Click on the image for a larger version of sketchnotes. This talk is part of the free MaRS Entrepreneurship 101 series (webcast and in-person session every Wednesday).
Feel free to share this! You can credit it as (c) 2012 Sacha Chua under the Creative Commons Attribution 2.5 Canada licence.
Different Types of Entrepreneurship, Kerri Golden, Allyson Hewitt (MaRS ENT101)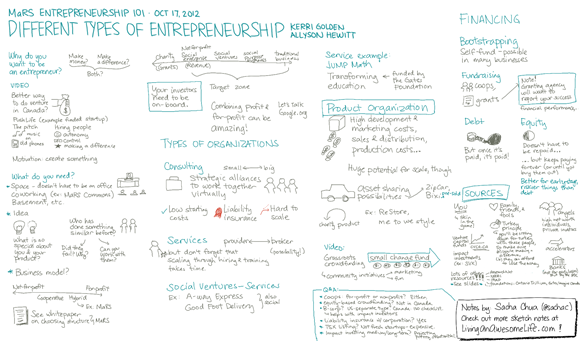 Check out my other ENT101 sketchnotes, or other sketchnotes and visual book notes!
Text for searching:
MaRS ENTREPRENEURSHIP 101 OCT 17, 2012
DIFFERENT TYPES OF ENTREPRENEURSHIP KERRY GOLDEN ALLYSON HEWITT
Why do you want to be an entrepreneur? Make money? Make a difference? Both?
VIDEO
Better way to venture in Canada?
Push Life (example funded startup)
The pitch
Music on old phones
Hiring people
Autonomy
Control making a difference
Motivation: create something
What do you need?
Space – doesn't have to be an office coworking (ex MaRS Commons) Basement, etc.
Idea
What is so special about you and your product?
Who has done something similar before?
Did they fail? Why?
Can you work with them?
Business model?
Not for profit, for profit, cooperative, hybrid
Ex: MaRS
See whitepaper on choosing structure – MaRS
Charity (Grants), Not for profit, Social Enterprise (Revenue)
Social Ventures, Social Purpose Business, Traditional Business
Target Zone
Your investors need to be on-board
Combining profit? For-profit can be amazing!
Let's talk Google.org
TYPES OF ORGANIZATIONS
Consulting
Small < -->big
Strategic alliances to work together virutally
Low starting costs
Liabilty insurance
Hard to scale
Services
Provider< ----> broker (possibility!)
but don't forget that scaling through hiring & training takes time.
Social ventures – Services
Ex: A-way Express Good Foot Delivery – also social
Service Example:
JUMP MATH
Transforming education < -- funded by the Gates Foundation PRODUCT ORGANIZATION High development & marketing costs, sales & distribution, production costs... Huge potential for scale, though asset sharing possibilities Zip car Bixi pre-sold Charity Product Ex: Re Store, Me to We Style video: Grassroot crowd funding small change fund Community initiatives - marketing - fun Q&A * Coops: for-profit for non-profit? Either * equity-based crowdfunding? Not in Canada. * B-corp? US-separate type, Canada: ISO checklist. --> help with impact investors
* Liability insurance w/corporation? Yes
* TSX listing ? Not fresh start ups- expenisve.
* Impact investing medium /long-term? Projecting pretty substantia !
FINANCING
Bootstrapping
Self-fund-possible in many business
Fundraising
Coops,
grants
Note! Granting agency will want to report your success
Financial performance
Debt
But once it's paid, it's paid!
Equity
Doesn't have to be repaid…
… but keeps paying forever (or until you buy them out)
Better for early stage, riskier things than debt
SOURCES
You
skin in the game !
Venture capital fund cvca.ca
impact investments (ex: SVX)
Family, friends, & fools
Turnkey principal
– you'll be sitting down for turkey with these people, so make sure
(a) you're making a difference
(b) they can afford to lose the money
angels high net worth individuals, private investors
accelerators
Banks (not for early losses. But try the BDC)
Lots of other resources
– Research Net
– NSERC
– RAP
– Foundations: Ontario Trillium, Gates, Imagine Canada