This talk is part of the free MaRS Entrepreneurship 101 series (webcast and in-person session every Wednesday).
Feel free to share this! You can credit it as (c) 2012 Sacha Chua under the Creative Commons Attribution 2.5 Canada licence.
Click on the image for a larger version of sketchnotes.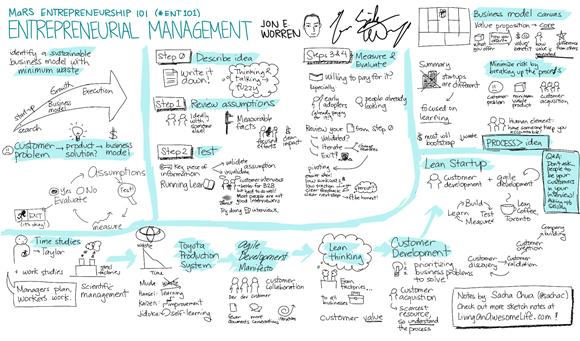 Check out my other ENT101 sketchnotes, or other sketchnotes and visual book notes!

Text for searching

MaRS ENTREPRENEURSHIP 101 (#ENT 101)
ENTREPRENEURIAL MANAGEMENT – JON E. WORREN
Identify a sustainable business model with minimum waste
– Search
– Business Model
– Start-up
– Growth
– Execution
Customer Problem
Product solution ?
Business Model
Exit (it's Okay!_
Evaluate
Yes O NO
assumptions
Test
Measure
Time studies
– Taylor
+ Work studies
Steel factories
Managers plan, workers work
Scientific management
Waste Time
Muda:
Hansei: learning
Kaizen: improvement
Jidoka: self-learning

TOYOTA PRODUCTION SYSTEM
agile Development Manifesto
Customer collaboration
Dev Dev Customer
Fewer documents
More conversations
iterations
Lean Thinking
From factories… to all businesses
customer value
Customer Development
Prioritizing business problems to solve
Customer acquisition
Scarcest resource, so understand the process
BUSINESS MODEL CANVAS
Value proposition –> core
What you offer
How you offer it
$ value/ benefit
how value is generated
difference from others
Summary
startups are different
focused on learning
$ most will bootstrap wade
Minimize risk by breaking up the process
Customer problem
Minimum viable product
Customer acquisition
Human element: have someone keep you accountable!
PROCESS> idea
Q&A: Don't ask people to be your customers in your interview! asking w/o selling
LEAN STARTUP
Customer development + agile development
Build – Learn – Test – Measure
Lean Coffee, Toronto
Company building
Customer creation
Customer validation
Customer discovery

You can comment with Disqus or you can e-mail me at sacha@sachachua.com.