Click on the image for a larger version! Please feel free to share this under the Creative Commons Attribution Licence.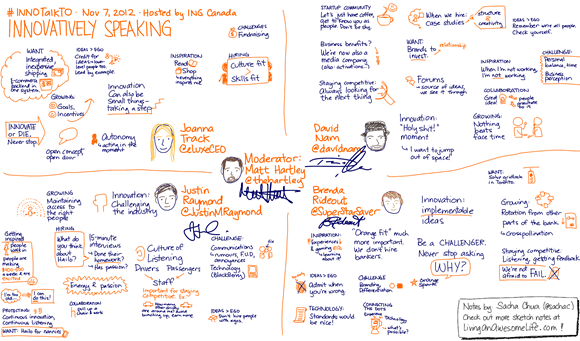 The panel was moderated by Matt Hartley. If you like this, check out my other sketchnotes!
ING Direct invited me to this event.
Text for searching
# INNO TALK TO. NOV 7, 2012. HOSTED BY ING CANADA
INNOVATIVELY SPEAKING
MODERATOR: Matt Hartley @ thehartley
JOANNA TRACK @ eluxeCEO
Want: integrated, inexpensive shipping e-commerce backened in one system
IDEAS > EGO
Credit for ideas–>lower level people too.
Lead by example
GROWING: Goals, Incentives
Innovation can also be small things – taking a step
INNOVATE or DIE. Never stop.
Open concept, open door
Autonomy -> acting in the moment
————-
Justin Raymond
@justinMRaymond
GROWING: maintaining access to the right people
Innovation: Challenging the industry
Getting inspired
People walk in, People are making $ 400-500 a week andare excited
HIRING
– What do you think about Hailo?
– 15-minute interviews
– Done their homework?
– Has passion?
Culture of Listening: Drivers, passengers, staff
I'm too old… -> I can do this!
Energy & Passion
Important for staying competitive Ex: How many other drivers are around me? Avoid bunching up, earn more
PROTECTING: continuous innovation, continuous listening
WANT: Hailo for nannies
CHALLENGE: Communications – rumours, F.U.D., annoyances.
Technology (BlackBerry)
IDEAS>EGO: Don't hire people with egos
——-
David Nam (@davidnam)
STARTUP COMMUNITY: Let's just have coffee, get to know you as people. Don't be shy.
Business benefits? We're now also a media company (also: activations…)
Staying competitive: always looking for the next thing
When we hire: case studies, structure and creativity
WANT: Brands to invest. relationship
Forums: Source of ideas we see it through
IDEAS > EGO
– Remember we're all people
– Check yourself before you wreck yourself
INSPIRATION: When I'm not working, I'm not working
CHALLENGE: Personal balance, time; Business perception
COLLABORATION: Great idea, people gravitate to it
Innovation: "Holy shit!" moment
I want to jump out of space!
GROWING: nothing beats face time
——–
Brenda Rideout (@SuperStarSaver)
INSPIRATION: Experiences & gaming, learning about it
IDEA > EGO: Admit when you're wrong
TECHNOLOGY: Standards would be nice!
HIRING: "Orange Fit" much more important. We don't hire bankers
CHALLENGE: Branding, differentiation
CONNECTING THE DOTS: Experience technology – What's possible?
Innovation: Implementable Ideas
BE A CHALLENGER: Never stop asking
Orange spark
WANT: Solve gridlock in Toronto
Growing: Rotation from other parts of the bank
Cross-pollination
Staying competitive: Listening, getting feedback
We're not afraid to FAIL.