This talk is part of the free MaRS Entrepreneurship 101 series (webcast and in-person session every Wednesday). Feel free to share this! You can credit it as (c) 2012 Sacha Chua under the Creative Commons Attribution 2.5 Canada licence. Click on the image for a larger version of sketchnotes.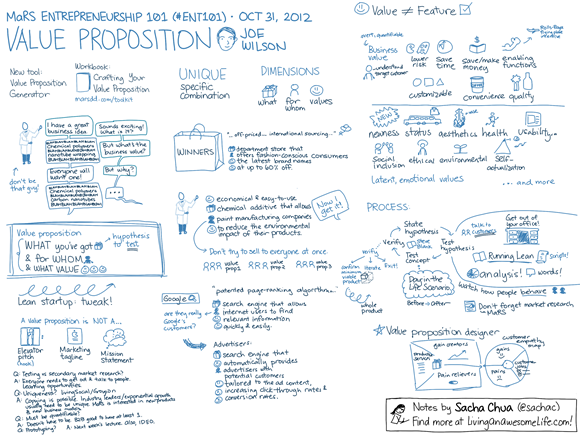 Check out my other ENT101 sketchnotes, or other sketchnotes and visual book notes!
Text for searching
MaRS ENTREPRENEURSHIP 101 (#ENT101). OCT 31, 2012
VALUE PROPOSITION JOE WILSON
New tool: Value Proposition Generator
Workbook: Crafting your value proposition marsdd.com/toolkit
I have a great business idea
BLAHBLAHBLAHBLAHBLAH Chemical Polymers BLAHBLAHBLAHBLAHBLAH nanotube wrapping BLAHBLAHBLAHBLAHBLAH
Everyone will want one!
BLAHBLAHBLAHBLAHBLAH Chemical Polymers BLAHBLAHBLAHBLAHBLAH Carbon nanotubes BLAHBLAHBLAHBLAHBLAH
Don't be that guy!
Sounds exciting! What is it? But what's the business value? But why?
Value Proposition
WHAT you've got –> hypothesis to test
& for WHOM
& WHAT VALUE
Learn startup: tweak!
A value proposition is NOT A…
– Elevator pitch (hook)
– Marketing tagline
– Mission Statement
Q: Testing vs secondary market research?
A: Everyone needs to get out and talk to people. Learning opportunities.
Q: Uniqueness? Living Social / GroupOn
A: Copying is possible. Industry leaders / exponential growth usually need tobe unique. MaRS is interested in new products and new business models.
Q: Must be quantifiable?
A: Doesn't have to be B2B good to have at least 1.
Q: Prototying?
A: Next week's lecture, also, IDEO
UNIQUE Specific combination
DIMENSIONS: What, for whom, Values
WINNERS
"…off-priced… international sourcing…"
Department store that offers fashion-conscious consumers the latest brand names at up to 60% off.
economical & easy-to-use
chemical additive that allows — Now ! get it!
Paint manufacturing companies
To reduce the environmental impact of their products
Don't try to sell to everyone at once
Value prop1, Value prop2, Value prop3
Google
"patented page-ranking algorithm"
Search engine that allows internet users to find (are they really Google's customers?) relevant information Quickly & easily
Advertisers: Search engine that automatically provides advertisers with potential customers tailored to the ad content, increasing click through rates & conversion rates.
Value != Feature
Understand target customer
Rolls-Royce flying plane incentive
Overt, quantifiable business value
– lower risk
– save time
– save / make money
– enabling functions
– customizable
– convenience
– quality
latent, emotional values … and more
– newness
– status
– aesthetics
– health
– usability
– social inclusion
– ethical
– environmental
– self actualization
PROCESS
Steve Blank
State hypothesis -> Test hypothesis -> Test concept -> Verify
Verify: confirm minimum viable product, Iterate, Exit!
Whole product
Day in the life scenario: Before–> after
Get out of your office!
Talk to customers
Running Lean: Scripts! Analysis! Words!
Watch how people behave
Don't forget market research: MaRS
Value proposition designer
products & services
gain creators
pain relievers
Customer empathy maps
Gain
Pains
Customer jobs