This talk is part of the free MaRS Entrepreneurship 101 series (webcast and in-person session every Wednesday). Feel free to share this! You can credit it as (c) 2012 Sacha Chua under the Creative Commons Attribution 2.5 Canada licence. Click on the image for a larger version of sketchnotes.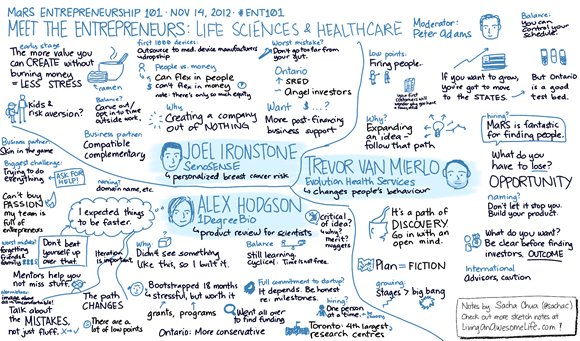 Check out my other ENT101 sketchnotes, or other sketchnotes and visual book notes!

Text for searching

MaRS ENTREPRENEURSHIP 101: NOV 14, 2012 # ENT 101
MEET THE ENTREPRENEURS: LIFE SCIENCES & HEALTHCARE Moderator : Peter Adams

JOEL IRONSTONE, SenoSense, personalized breast cancer risk

Early stage: The more value you can CREATE without burning – LESS STRESS
Ramen
First 1000 devices: outsource to med. device manufacturers, dropship
People vs. Money : Can flex in people, Can't flex in money
Note: there's only so much equity
Kids & risk aversion?
Balance? Carve out / opt in to time outside work
Why: Creating a company OUT OF NOTHING
Business Partner: Compatible, complementary
Worst mistake? Don't go too far from your gut.
Ontario: SRED, Angel investors
Want $…? More post-financing business support

———–

ALEX HODGSON, 1Degree Bio, Product review for scientists

Business Partner -> Skin in the game

Biggest challenge: Trying to do everything. ASK FOR HELP!

Can't buy PASSION. My team is full of entrepreneurs

Worst Mistake? Forgetting friends & family

Mentors help you not miss stuff.
Naming? domain name, etc
I expected things to be faster. Don't beat yourself up over that .
Also mistake: Image above all – uncomfortable!
Talk about the MISTAKES, not just Fluff.
The path CHANGES. There are a lot of low points. Iteration is important
Why: Didn't see something like this, so I built it.
Bootstrapped 18 months. stressful, but worth it
grants, programs; Went all over to find funding
Ontario: More conservative
Critical of idea? Why? Merit? nuggets
Balance: Still learning. cyclical. Time is not free
Full commitment to startup? It depends. Be honest re: milestones
Hiring? one person at a time. be choosy
Toronto: 4th Largest research centres

TREVOR VAN MIERLO, Evolution Health Services, Changes people's behaviour

Balance: You can control your schedule
Low points: Firing People
If you want to grow, you've got to move to the STATES, but Ontario is a good test bed.
Your first customers will wonder why you have a fancy office
Why? Expanding an idea – follow that path
hiring? MaRS is fantastic for finding people
What do you have to lose? OPPORTUNITY
naming? Don't let it stop you. Build your product
What do you want? be clear before finding investors. OUTCOME
It is a path of DISCOVERY. Go in with an open mind.
Plan – FICTION
International advisors, caution
Growing: stages > big bang

You can comment with Disqus or you can e-mail me at sacha@sachachua.com.