Learn more about mindmapping in this sketchnote of Chuck Frey's Jan 14, 2013 webinar on Rock the Monkey: Visual Facilitation Skills and Brain-based Learning. Click on the image for a larger version.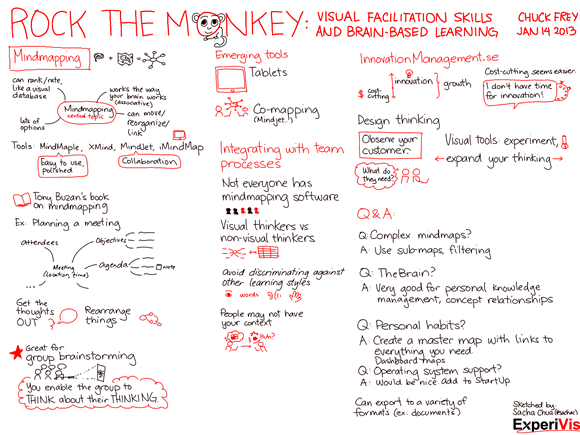 Feel free to share this! © 2013 Sacha Chua, http://sachachua.com (Creative Commons Attribution Licence)

Learn more about mindmapping on Chuck Frey's blog, The Mindmapping Software Blog. You can also follow him on Twitter (@chuckfrey).

For more sketchnotes, see http://experivis.com/ and http://sachachua.com/blog/category/sketchnotes . Enjoy!

This post originally appeared on Experivis, the company I'm building around the idea of turning experiences into visuals.

You can comment with Disqus or you can e-mail me at sacha@sachachua.com.