C.C. Chapman was in town to share insights from his latest book, Amazing Things Will Happen. Here are my sketchnotes from his talk tonight at Third Tuesday Toronto. =) Click on the image for a larger version, which should also print nicely on 8.5×11" in landscape mode. (Or even 11×17"!)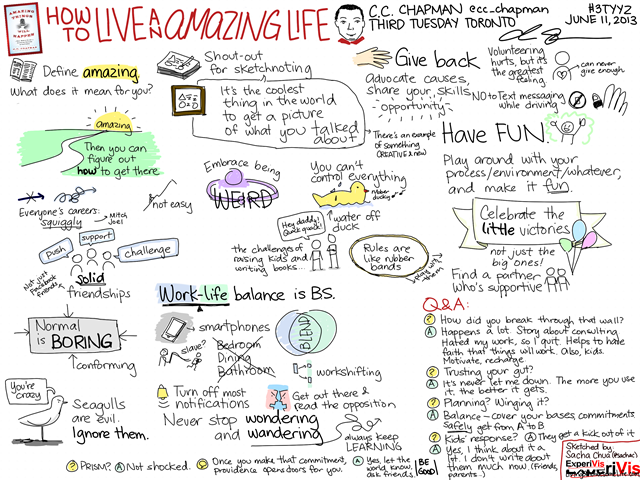 Feel free to share this! (Creative Commons Attribution License – enjoy! Links are not required, but are welcome.)
For more about C.C. Chapman, check out his blog, podcast, or Twitter feed.
If you like this, you might also want to check out my other sketchnotes and visual book reviews, or download my collection of sketchnotes from 2012 (free/PWYC). It's always fun helping good ideas spread!
2 Pingbacks/Trackbacks
13 June 2013 at 9:06am
[...] else involved in making this event a success. A special thanks to Sacha Chua for ... 21 June 2013 at 7:06am
[...] his Third Tuesday Toronto talk on How to Live an Amazing Life (see notes), C.C. ...