I'm nearly out of business cards, which means it's time to evaluate my business card experiment and plan my next one. Past performance is a good indicator of future results, so let me think about how I've been using my business cards and how I want to use them in the future. For comparison, here's last year's business card plan.
People usually ask me for cards:
after seeing me sketchnote an event, because they're curious about having me sketchnote one of theirs
after chatting with me at events because they want to check out my blog
as a reminder to follow up with me about something
I haven't gotten any business leads from cards yet, but I've had a lot of good conversations. I think they're worth carrying. I try to not rely on them, though. Whenever possible, I get the other person's contact information, because I'm often good at following up.
Mostly, I want my cards to make people to think, "Oh, I'm also interested in that! Let me go check out her site and get in touch."
I designed the current set of cards in November, a month before I came up with the "Experivis" name and logo. For fun, I drew the front of the card. I took advantage of Moo's ability to print individual designs on the backs of the cards, using scaled-down images of my sketchnotes.
Lessons learned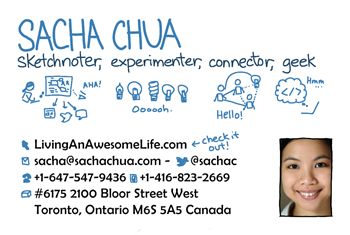 So far, people tend to react to:
the "geek" keyword on my card ("You're a geek too!"),
the sketchnoter keyword/diagram (which could be bigger), and
the "pick a card, any card" process because of the individual drawings on the back, even though they can't be read (I should draw new ones that are sized to fit)
the picture, which they find helpful
No one complained about rounded corners or the inability to write on the back (I guess I didn't run into corner-folders). I liked how the rounded corners felt, but could do with a matte background so that I can write (or draw!) memory hooks for people.
I'm definitely changing fonts to something where the "a"s don't look so much like "o"s – maybe to the Open Sans that I use on my blog.
Brainstorming approaches
When coming up with design ideas, it's good to try several very different approaches. Here are some I might consider:
Making it more you-focused with a question
Using Experivis as a graphic element and making this more of a company card
Focusing on my 5-year experiment, making it more of a social card
Listing various interests like the way I have them on the LivingAnAwesomeLife.com welcome page; maybe even bringing a highlighter?
Adding tips to the back (ex: emotions, stick figures, banners, hair styles, facial hair, clothes, how to draw ____, complete this picture, draw yourself) to inspire people to draw/doodle while still providing some note space (print this in gray?). Maybe I can even encourage people to show me their "filled-in" cards by e-mailing me a picture…
Ooh. I like that last approach.
Cost-benefit analysis
The Moo cards are USD 0.54 per card (per pack of 50, after shipping). Small runs are more expensive, but I can learn more from them. The Vistaprint cards (per pack of 250, plain back, after shipping and promos) are CAD 0.09 a card. With a colour back, it would be about CAD 0.13.
Other ways to achieve similar effects:
Print the tips on card stock, print my details as stickers, and stick them manually. Involves work and positioning.
Use some kind of custom stamp – that can be a hassle to set up, so pre-printed cards would be a good way to test the approach.
I think printing a small run of business cards will be the best way to test this idea of sharing mini-drawing tips.
I'd still like to know whether it actually engages people, though. What would be my threshold of awesomeness to make it worth the premium over an ordinary card? Possible benefits:
I learn in the process of drawing all of those card backs
I have more fun giving cards out, and we have built-in conversation hooks
I might get slightly better follow-up from people who are interested in learning more about drawing, which will work out well if I create pay-what-you-can resources to help people feel more comfortable with drawing
Next steps
I'm going to work on making business-card-sized drawing exercises/tips and some pay-what-you-can resources, and then I'm going to make Moo business cards that take advantage of them, probably with the front of the card mentioning a variety of interests instead of focusing on Experivis' branding.
In the meantime, I'll experiment with a month or two of not giving business cards to test how uncomfortable that might make me and whether I'll remember to follow up. We'll see!