Posted: - Modified: | life
We've been working on decluttering the house and crossing off the projects that have languished on our to-do list. Weekends are good for cleaning blitzes and household sprints. Now I try to get through as many tasks as I can in our Asana-managed project before I focus on writing or other computer-y things.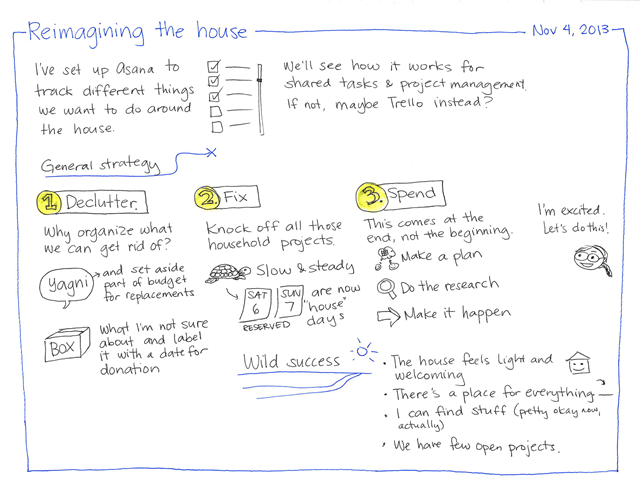 I haven't quite figured out what my home decorating style is and how that meshes with W-'s. I don't really relate to the fancy images in the online style quizzes. I like the way we are, I guess. Maybe with a little bit less stuff, maybe with a little more coherence, but roughly what our house's personality is right now. Chances are that if we change things around, I'd probably be happy with that too. Hedonic adaptation, you know.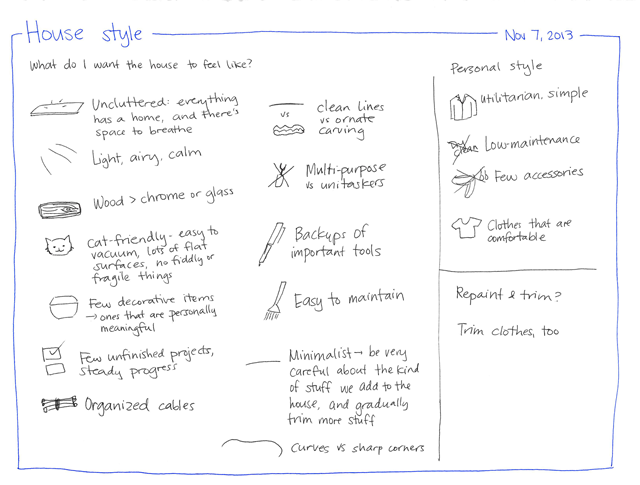 I'm good at getting rid of stuff, though. W- occasionally rescues still-useful things from the donation pile.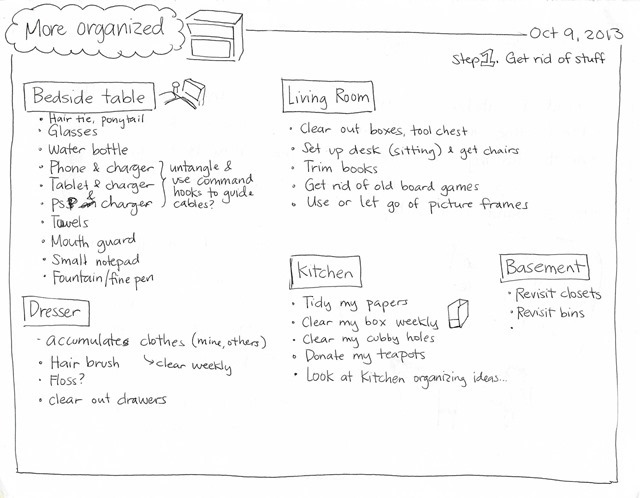 Still, it's so easy to feel comfortable. Sometimes I feel disconnected from my cohort. The circumstances I thought I could reasonably strive towards on my own (maybe a tiny apartment while I focus on other priorities?) are so different from this lucking into a wonderful household life. Wow! I'm in a house! With a garden! And not all of our furniture came from Ikea! And my husband and I love cooking, and have a kitchen we feel comfortable making things in! I fight hedonic adaptation every inch of the way. Part of me is still in the shared rooms of my student life, so this is amazing.
It's good to gradually grow into a space, to tweak it to fit the way we live, to create order and trim excess. Once in a while we change the flow: the couch migrated from the front of the house to the side, the bookshelves moved from one wall to the other, the pantry shifted to the kitchen where it's within easy reach of busy cooks. It's part of growing up.
I'm learning things about myself as we make decisions about what to surround ourselves with. I am becoming more ruthless about gifts and decorative items – it must have strong positive emotions, or it's out. I've come to terms with getting rid of at least half the stationary collection I'd accumulated over optimistic impulse buys. I want room to breathe. I want nothing collecting cobwebs and guilt. Don't get me gifts, give me stories of your life well-lived. (Or support causes: there are always people who need help.)
I have to be careful about how I think of the space around me. It won't do to have my head turned by home décor or interior design magazines—I distrust industries that want me to consume endlessly. I need to keep it simple and not distracting, then learn to add whatever little things resonate with me as I discover them.