Thirty is an excellent milestone birthday. The twenties involved tons of change—and unlike my teenage years, I can actually remember and reflect on what I learned during my twenties. (This is not entirely true. I can remember bits and pieces of high school and university. I don't have good notes, though.)
At thirty, I'm at the threshold of even more changes. I don't know what the next ten years hold. There are at least two excellent but wildly divergent paths I could take. We'll just have to see.
Hollywood movies tell me that I should be lamenting my happy-go-lucky twenties or trying to squeeze in that last hurrah before I settle down. When was the last time I listened to them, anyway? I've long since swapped my New Year's Eve staying-up for my now-traditional tuck-into-bed-long-before-the-fireworks-go-off. I survived my twenties without going clubbing or getting bitten by the travel bug, so I'm already well outside the Hollywood playbook.
I'm looking forward to turning thirty. And forty. My real goal is to get to ninety and more with an awesome life, so I'm just a third of the way there. Plenty more to go.
A blog is an awesome time machine. It's a little mind-boggling, but I've been blogging for almost twelve years. Last year, I made a compilation of my favourite blog posts: not necessarily the most useful or the most commented, but the ones that I wanted to remember for decades. I rated all my posts on a scale of 1-5, and kept only the ones that I rated 5. I called the compilation Stories From My Twenties (although I cheated and threw in a handful of blog posts from my late teens). As an experiment, I had the cheek to charge for it. (Not much, just the rough equivalent of a cup of hot chocolate. Now it's pay-what-you-want, so you can treat me to lunch if you feel particularly nice.)
Good thing I did that, because it made reviewing the past decade much easier. Here's my twenties in one page: (Click the image for a larger version)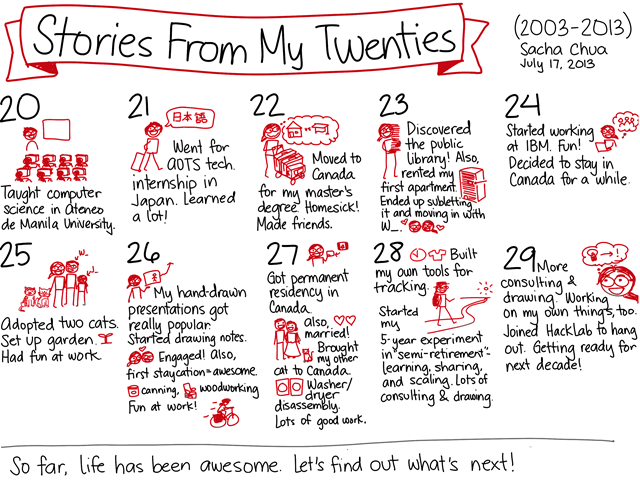 Things I do better or more often now than when I was 20:
Learning and sharing interesting things
Planning, taking calculated risks, making decisions
Dealing with life, business, paperwork, etc.
Drawing and visual thinking
Reviewing the past and imagining the future
Tracking data and analyzing it, managing finances, and so on
Building tools and learning technologies
Being more independent
Things I probably do worse or less often:
Asking for help
Hanging out with friends or family
Teaching
Travelling
Here's what I want to do for my thirtieth year:
Learn about all sorts of interesting things in life, tech, visual thinking, and more.
Share: Get into the habit of creating resources, like these drawing tutorials and blog posts based on my outline. Release the resources with the pay-what-you-want model so that the ideas can go as widely as possible while still allowing people to show their appreciation or vote with their dollars.
Scale by organizing my site so that people can find good stuff, even if I'm not awake to help people find things.
Oh, and get back to working on those relationships with people outside the house, as tempting as it will be to spend all my time at home. =)