I've been writing a lot about sewing lately, which might surprise you if you came to this blog for tips on Emacs or Drupal. =) It's the way my life works–I focus on things, but the set of things I focus on evolves over time. I still have lots to write about Drupal, social networking, and virtual assistance, but I have to confess I haven't been tweaking my .emacs lately! =)
Anyway, sewing. I enjoy picking fabrics and imagining what to do with them, and then convincing the fabric to look like a reasonable facsimile of my intended result. For example, I picked up 5 meters of the adorable blue fabric below (100% cotton; the white flowers are glittery), and I've been making a dress following Vogue's V8020 pattern (also pictured below). I've made it with a V neckline instead of a rounded neckline (yay options!), and the only things I need to do to make it wearable are to sew in the zipper and fix the hems.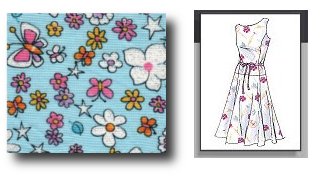 And then I'll have a pretty dress to wear at my get-together this Saturday. =) Sure, the seams are a little crooked and puffy, but I made the dress, and I'll just get better and better with each thing I make.
The fabric's also available in pink, but I thought that might be too jeune fille. I sound five years old, and I don't need to look it. Blue takes a bit of that edge off, and the simple, non-frilly lines of the pattern further modify the effect of the print.
New this time: diligently marking all seamlines, making a princess-seamed top whose fit I actually like, making the first dress I like. This will be my first time to use ribbons, too!
You can comment with Disqus or you can e-mail me at sacha@sachachua.com.