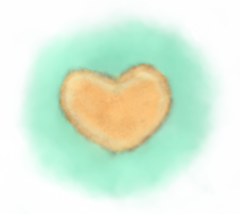 Pandesal. Brown paper bags of crunchy-yet-soft buns at breakfast and merienda, often accompanied by hot chocolate—or chocolate porridge, if I was really lucky.
If there is a type of bread in my heart, it is this. Not white bread or whole wheat or rye or flax. Not the focaccia we dipped into balsamic vinegar and olive oil at the Italian restaurant my family often went to. Not the banana breads or cornbreads W- and I have made.
Pan de sal. Bread of salt.
Perhaps Laura Esquivel was on to something in Like Water for Chocolate. Food really is a language powerful beyond words.
I made pandesal for the first time. Fresh from the oven, they tasted of home.
I offered W- a piece. He had pandesal during our trips to the Philippines. I was glad he could relate to my memories.
There are places that sell pandesal in Toronto. I've never been to them. It's different. Going out of my way to buy Filipino food? That's something I might do if I get really homesick. Learning how to make the food of my memories? That fits. That helps me grow.
Now I can have pandesal any time I want. =) When we finish the 14 rolls I stashed in the freezer, I'm going to try this other recipe.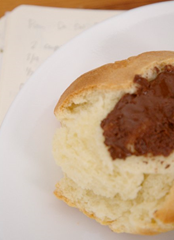 Picture by W-