What a year for major life changes!


My cat Neko and I officially moved to Canada this year when I got my permanent residency in January. After wrestling my unhappy and rather pointy cat into the soft-shell carrier, I stowed her under the seat in front of me. Not a single meow or yowl  out of her during the long flight, although there was a moment in airport security when I had a cat on my head.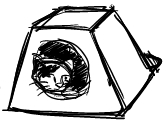 Neko seems to to be getting along quite fine. She has discovered all the warm spots in the house, and has claimed the top cat position at home even though Luke and Leia are both twice her size.
Me, I think I've figured out the secret to dealing with winter, too. Flannel pajamas, soft and warm sheets, plenty of thermals, and the renaming of winter to "baking season".   Good thing we biked a lot during the warm months.
I got a promotion and a new manager at work. I'm doing a lot of Drupal development again, which is tons of fun. I'm starting to get the hang of this, I think. There are topics that I feel comfortable being "the expert" on in workshops, although really it's more like doing the background research and being ready to brainstorm and ask questions.
J-'s in grade 7. The alternative school she's going to now is interesting because the subjects are integrated, so she's learning about, say, world hunger in mathematics and geography and all her other subjects. She's hitting that growth spurt, too. Her feet are bigger than mine, and she'll grow into them soon enough.

We picked up and deepened a few interests, too. We all learned woodworking this year, building our own Adirondack chairs. (Yes, even J- built one, with our help!) I'm still amazed that I can have a chair that actually fits me, as most lounge chairs are a bit too long.
The chairs were a great vantage point for viewing our garden, which has 

yielded lots of ampalaya (bitter melon) for pinakbet, plenty of herbs for pasta sauce, and peas and cherry tomatoes for snacking. We're looking forward to growing even more fruits, vegetables and herbs in next year's garden!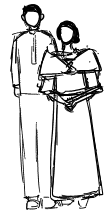 W- and I got married in Toronto City Hall. To keep things sane and introvert-friendly, we celebrated with just family and a few practically-family friends. Everyone flew in, and it was fantastic having family gathered around the kitchen table. The poor photographer was probably intimidated by all these people with better cameras and tons of photography
experience, but he survived. Tita Gay was a force of nature, practically bringing along a wedding in a suitcase. She surprised us with bubbles and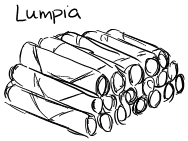 wedding favours. She and my sister Kathy catered the whole thing, and they conspired with Ching and John to spring a wedding
cake on us. We ate pretty much constantly during the week my family spent in Canada, and really good food too. We just finished the very last lumpia from our stash from Tita Gay and are looking forward to making more.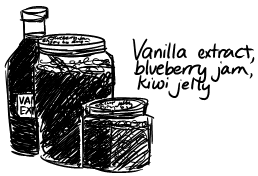 Inspired by how my mom and dad built these great friendships over time and distance, we've been working on being more social: giving home-made kitchen gifts, writing Christmas cards and letters (hi!), and going to and organizing get-togethers. It's surprisingly fun! We're looking forward to learning more about building relationships over time.
What a year!


2011 promises to be amazing. We're looking forward to celebrating Kathy and John's wedding in the Netherlands and the Philippines. We're also looking  forward to learning more about woodworking and getting even more out of our garden. Me, I can't wait to do more writing, drawing, and programming, and I'm excited about opportunities to develop my communication and consulting skills.
Please help us with our project of building relationships. =) How was your year? What are you looking forward to in the next one? What are your stories? You can find our past yearly updates at https://sachachua.com/blog/category/yearly . Looking forward to hearing from you!
---
Updates from last year:
In last year's learning plan, I said that my key priorities were:
Share as much as I can at work and in life. I want to share as much as possible so that other people can build on that foundation. At work, this means creating enablement material, blogging, organizing the shared content, and helping communities and individuals.
Learn more about drawing, animation, and video. I want to get even better at thinking things through and communicating what I'm learning. The better I get at sharing, the more I can help people learn.
Continue living an awesome life! I can't wait to explore the experiment opportunities that are sure to come up. I'm looking forward to further building my relationships with W- and J-, family, friends, communities, and the world, too. And I'm definitely looking forward to bringing my cat to Canada as I complete the permanent residency process. I miss her! =)
Although I didn't get as much into animation and video as I hoped to, I've had fun learning about everything else, and I think I'll continue to focus on writing, drawing, sharing, and connecting in 2011. =)
---
Links: