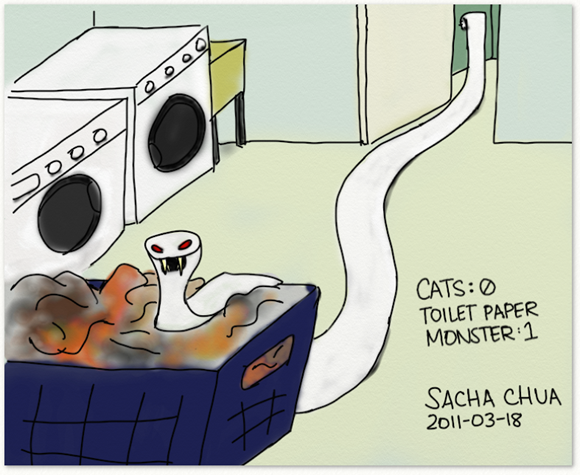 One time when I came home, W- showed me the picture he took of a toilet paper trail going to the laundry basket. The cats refused to testify, but this is what I think happened.
W- says the other drawing I made of Neko(cat)'s favourite positions for sleeping might be too personal, it being set in our room and all. I said Cat versus Human does it. He said my blog isn't Cat versus Human. Which is true, because Cat versus Human is awesome and even has a book coming out, but not inarguable. I didn't break out the persuasive techniques we learned about in "Thank You for Arguing," though. Instead, I'll tease you with the captions:
The Pillow Hog
The Balancing Sphinx
The Chaperone
The Heat-seeker
People who know Neko (our oldest cat) or who have cats of their own can probably figure out the rest.
I'm playing around with Artrage Studio Pro to see if I like it. I think I get more value from it than from a new laptop battery. Putting my computer into hibernation mode before moving between the kitchen and the living room adds maybe a minute; not a big cost. Being able to draw with 16 million colours and infinite erasures – now that's something real. It makes drawing a whole lot more fun. I might give the Autodesk SketchBook Pro trial another spin, too. It might be better for pencils and clean illustrations.
Drawing is a great way to remember, particularly for things I've forgotten to take photographs of or for which I've lost the files. My stack of blank index cards is dwindling fast, and sketches pile up on my bedside table. This is fun. =)
Quick comparison with SketchBook Pro: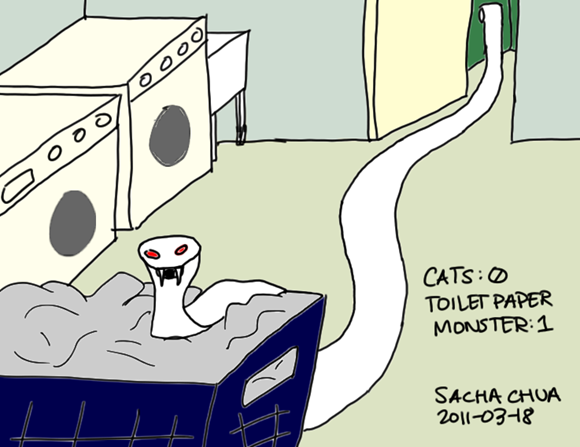 Smoothing is more controllable in Artrage, and I should check out the flood fills in that program too. I do like the pen gestures in Sketchbook Pro, though, and I'm sure they'll be a lot more convenient with experience. I'm going to practise drawing in both some more. Who knows? I may even get both, if it turns out that they exercise my brain in different ways. =)

You can comment with Disqus or you can e-mail me at sacha@sachachua.com.