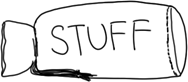 W- asked me if I could make a stuff sack for J's sleeping bag, as it turned out she was going camping this week. These bags are handy for compressing loose items such as sleeping bags, jackets, clothes, and so on. You simply stuff as much as you can into the bag, and the bag keeps the items compressed.
I had white ripstop nylon in my fabric stash, left over from the time we were thinking of making a fabric softbox. J- measured the compressed sleeping bag – 25" circumference, about 16" of height – and I started working on a simple tubular stuff sack.
The project came together quickly, even the tricky part of sewing the circular base to the tube. My seams were mostly straight and neat, although I had some bubbling near the bottom. For the drawstring, we reused the free shoelaces that came with J's new shoes. (Waste not, want not.) The stuff sack ended up just the right size for the sleeping bag. Hooray!
I think I'm getting the hang of going from idea to actual thing, and it's a lot of fun. All the cat hair that got sewn into the seams along the way probably means I shouldn't go into commercial production yet, though!