I planned my packing for the Oct 5 – Oct 15 trip to the Philippines using several matrices. Life worked out mostly as planned. This was how I thought it would work out:
| | | | | |
| --- | --- | --- | --- | --- |
| | Cream tee | White tee | Pink tee | Dress |
| Dress | | | | 2011-10-9 |
| Brown skirt | 2011-10-07 | | 2011-10-10 | |
| Stretch pants | 2011-10-15 | 2011-10-05 | 2011-10-08 | |
| Cargo pants | 2011-10-13 | 2011-10-11 | 2011-10-06 | |
| Board shorts | | 2011-10-14 | 2011-10-12 | |
I liked the planning method, so I built the analysis into my home dashboard. This is what my clothing logs tell me: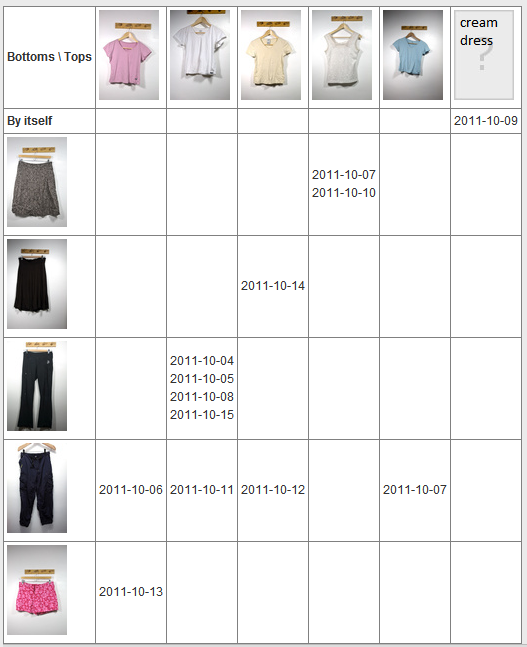 Here's that listed by date (also from the same page):
A and B distinguish different outfits on the same day.
I might need to fix the clothing logs as the pictures come in. I forgot to track some of the earlier days, so I filled them in from memory.
I wore the white T-shirt / stretch pants combination on the plane rides, hence the double-counted days.
Next time, I should bring more polyester and less cotton. I brought the cotton T-shirts because they were easy to mix and match. They were fine in the city, where we spent most of our time in airconditioned comfort. The polyester top I borrowed from W- was much more comfortable in hot weather. It dried faster after washing, too. Many of my polyester tops are more sport-like and can't easily be matched with skirts, but I'll keep an eye out for other tops that would be a good fit. The travel pants my dad got me should also make it easier to use my travel tops.
I should plan for clothes to dry in two days, not one. Maybe even three days, for safety.
We packed just the right number of clothes, I think. I didn't feel like I packed too few clothes, and I didn't end up with lots of clothes unworn.
W- totally won in terms of clothing. It turns out that scrubs are excellent for air travel: a loose fit for comfort; pockets for pens, passports, and boarding passes; and room to avoid aggravating sunburns.
Yay geek travel!